Becoming a mother is sheer magic.  When my oldest, Sadie was born I was immediately filled with a whole new kind of love.  And when Lyla followed 2 years later, I swear my heart grew bigger.  It's fun to find a piece of jewelry to celebrate the special mother/child relationship which is why I'm thrilled to be sharing with you a customized jewelry giveaway from Olive Bungalow along with promo code "TinyOranges15" for 15% off  when placing your order before November 23, 2012.
Be sure to stay tuned to the bottom of this post to enter for your chance to win a $100 gift card to Olive Bungalow!
Michele, Olive Bungalow creator, started her career as a gold/silversmith 12 years ago from her home in Arizona.  All of her jewelry is handcrafted in the USA using eco-friendly gold and silver and conflict-free diamonds.  She takes custom orders and guarantees her high quality workmanship.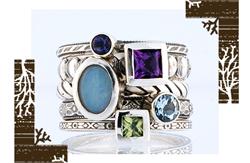 Her  "Customize It" stack rings are a fave with her mommy clientele.
I've always loved the idea of stackable birth month gemstone rings using my daughters birthstones (and my own).
Olive Bungalow's site has an awesome birthstone guide to help you pick your month and learn a bit about the meaning behind the stone.  A ring with our birthstones would mean harmony, healing and strength- I like that!
She also offers engraving on the inside of the ring.  What a lovely touch to have your child's name on the inside of their birthstone ring.  And the nice thing about the stackable version is you can start with your first child and simply add a ring each time you pop another one out!  What a perfect push present!
Or if you prefer something closer to your heart, she has a selection of the circle initial pendants and earthy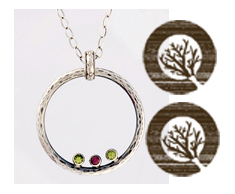 initialed pebble-like charms.
She has so many beautiful, nature inspired modern pieces, I found myself getting lost on her site.  Her Chunky Heart Ring is so sweet – I love the rose gold version.  Wouldn't it make an adorable special daddy/daughter holiday gift?
Grandmother gift idea for the holidays!  The Gemstone Drop Pendant with the their grandchildren's birthstones would be sure to make her smile this Holiday Season.
I think the Modern Leaf Earrings in Black Onyx  are stunning and versatile!  They'd look awesome with a pair of jeans and a tee or with a little black cocktail dress.
As for myself, I can't decide between the Diamond Satin Stack Ring or the Rustic Gold Hammered Stacking Ring but I'm hitting up Santa for one of them!  I've been wanting a simple pointer finger ring and I think either of these would do the trick!
Seriously, Santa, I've been sooo good this year.
What are your favorite Olive Bungalow Designs?
Be sure to get your order in before Sunday December 9th to ensure it makes it in Santa's sleigh!
{Disclosure:  Olive Bungalow is a Tiny Oranges Sponsor we are thrilled to be able to share with you about their quality handcrafted jewelry as you're writing up your Holiday Lists!}