First off, how can I resist a post on a shoe called "Tiny TOMS" on Tiny Oranges?!  And as I found out last Friday at the Tiny TOMS launch party at Neiman Marcus in Fashion Island, the shoes may be tiny, but this company has a very big heart.
For those of you unfamiliar with TOMS Shoes, they are a company dedicated to giving back.  With their "One for One" movement, for every shoe bought a shoe is donated to a child in need. To date, TOMS Shoes has donated over 400,000 shoes to kids around the world.
As if this was not enough to sell you already, the styles were sooooo cute!   They are available in sizes 2-13, from pre-walker to age 4 and select styles are available in size 10 – 13.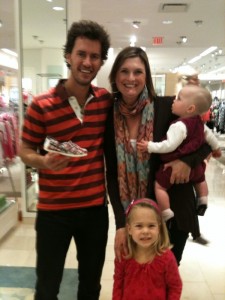 Here we are with the founder of the company, Blake Mycoskie, at the event.
He started the company after a trip to Argentina where he befriended kids and realized many had no shoes to protect their feet.
Can you imagine children in developing countries surviving without shoes??
And many can't go to school without them.  To give a child a pair of shoes is giving them protection for their feet and sometimes opportunity.
It all starts with an idea.
Completely inspiring.
And mamas, know what, they have CUTE styles for you too!