I am going to air some of my dirty laundry.  The truth is I don't like laundry and consider myself to be laundry-challenged. I avoid doing mine until the hamper overflows and it becomes unavoidable.  I have been known to leave loads of (dried) laundry in the dryer for days (don't judge!) and my sorting system consists of piles on the garage floor.  So, when I got an email awhile back about a special retreat Bosch Home Appliances was planning for bloggers in Scottsdale called "From Hanger to Hamper," an event all about simplifying the laundry process, I thought, what an awesome opportunity!
I felt very honored to be included by such a world-renowned company.  At first I thought it would be hard to pull off the trip, but when I sent the invite to my husband, he enthusiastically told me he would take a vacation day to watch the girls and said, "You should go!"   I think he was also secretly hoping for solutions to my laundry challenges!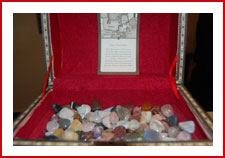 I was so busy before we left, I didn't have time to fully explore the website of the hotel where we would be staying.  When we arrived I was awestruck as I had NO idea it would be that amazing! The Intercontinental Montelucia Resort & Spa was much more than a hotel.  It was an experience. With Spanish-style architecture and touches of Moroccan influence, the entire resort felt like another world. When you check in, you are asked to pick a special gem from this box and make a wish or state your intention for your trip. Seriously. I love little touches like that.  I was in heaven!
The first night we enjoyed appetizers at the very cool MBar in the hotel and I got to know all the fellow bloggers that came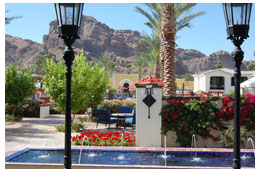 from all over for the retreat.  The next morning we enjoyed made-to-order omelets and other delicious goodies on the patio at the hotel restaurant overlooking the  pool and desert mountains.  Here was the view from the breakfast patio! GORGEOUS!
After breakfast we headed over to the BSH Gallery and Training Center.  BSH is the parent company for Bosch, Thermador and Gaggenau.  This 12,000 square foot award nominated design space  has 11 beautifully designed interactive kitchens!  It was soooo amazing.  Modern and completely state-of-the-art.
The first order of business was to GET dirty to test out the "Stain Removal" setting on the  Bosch Vision Series Front-Loading Washer!  They gave us plain white t-shirts, some salsa, chocolate syrup, soda and orange juice and watched us go to work!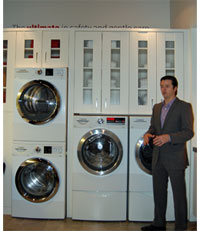 After the tees were sufficiently good and stained, they put them in the washer and started a presentation on the special features and benefits of the Bosch Vision Series Front Loaders.   The machine was SO QUIET. The Bosch representative talked the entire time right in front of it and it was almost like it wasn't even on!   The Container Store then presented on some super cool organizational products. Afterwards, we made lunch (yes, we did it ourselves with the help of the Bosch Chef!) in their fully usable kitchen and finished off the event with a tour of the entire showroom.
After our great time at the BSH showroom was over, we were taken back to the hotel and made our way to the Joya Spa for a spa treatment.   I have to say, it was one of the nicest and most unique spas I have ever been to in my life!
At the end of my trip, I left feeling so inspired and refreshed, both by the things I learned about Bosch and what makes their company so unique, and by my time spent with fellow mom bloggers.   There is just too much to fit into this post, so I will be doing separate posts to share more about  what I learned.  Things like stain removal tips (and how our shirts came out!), organizational tricks, and more about the Montelucia, which  I have vowed to return to one day with my husband!  So, keep your eye out for the posts to come!
I would love to extend a special thanks to Bosch for an event-to-remember!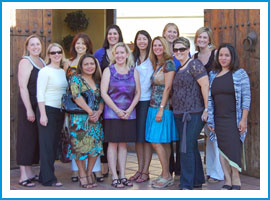 The Bosch Mommy Bloggers
Back row (left to right): Elizabeth from Traded my BMW for a Minivan, Sugar from Sugar in the Raw, Jennifer from The Dirty Shirt, Katie from La Jolla Mom, Shanna from My Favorite Everything, Me!
Front row (left to right): Sarah from The Organized Mom, Jocelyn from Hip Mamas Place, Jamie from Savvy Housewife, Linda from Peachhead, Julie from Angry Julie Monday, Caryn from Rockin Mama.
{Disclosure: The entire trip was paid for by Bosch.  However, my opinions on the company and what I write about my experience are my honest opinions!)