Recently I discovered a company called SquareSpot which launched in Orange County a few weeks back. As a SquareCard carrier, you can get special deals and discounts from participating local OC companies by simply showing your cute teal green SquareSpot Card when visiting your favorite businesses.
Even better, you can click HERE  to "Get Your SquareCard" for free with promo code TINYORANGES through May 10th, 2012.
Not only that, every person that signs up to receive the card with our TINYORANGES code will automatically be entered to win a $150 gift card to Burke Williams Day Spa! Can I hear a big  "WOO HOO!!"?
So when I heard about this company the first thing I did was check out the OC deals of course!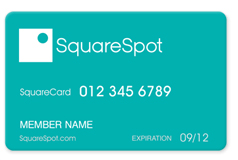 And I was so impressed I signed up immediately and was excited to start tracking my savings. I am telling you mamas, you gotta get it!
So far SquareSpot OC has 70 + partners on board (with more being added daily) to cater to the discerning mom that loves a great deal, but doesn't want to sacrifice on quality.
One of the reasons I was so excited when I saw the list of benefits, was that a good number of Tiny Oranges Sponsors were on board already. And you all know by now, that Tiny Oranges only works with the best and brightest family-friendly companies!
Here are the deals from our Sponsors that caught my eye:
* Fashion Camp OC: 10% off all classes and camps. Not applicable to birthday parties or private events.
* Granola Babies: Free snack tray with stroller purchase with promo code "SQUARE" at checkout.
* Knocked Up Fitness: 10 small group reformer Pilates classes (Mon/Fri 6am) or 10 group prenatal Pilates classes (M/W/F at 10:30am) for $300.
* Milkalicious: 10% off purchase.
* Morgan Law Group: Complimentary family wealth planning session ($750 value), including optional legal documentation for naming guardians for your children.
* Precious Hand/Footprints: 15% off your purchase.
* Pretend City: Yes! A Pretend City coupon! Buy one regular priced ticket and receive one 50% off!
* SeekingSitters: $15 pay per request fee waived for up to 3 sitter bookings for new members only.
* Team OC: 20% off first month's tuition for new members.
* Tiffany's Dance Academy: Free Dancewear Kit for Twinkle Babies and Twinkle Stars participants.
* Totsie Boutique: 15% off your purchase.
* Xpecting Maternity: 20% off your purchase (excluding strollers.)
…and you can click HERE to sort by "Orange County" to see all of the amazing offers.
The Orange County representative told me that companies can change their deal or promo offer every two months if they want to, which means that companies have the flexibility to offer different promotions throughout the year.
They are also working on launching a Marketplace coming soon, which will be a series of weekly deals you can take advantage of in addition to the standing ones. And one of the advantages of signing up for this card now means that you will be on the mailing list when it goes live.
After the introductory free card offer, people that wish to purchase the SquareCard can do so at an annual membership price of $50/year. So, now is a great time to GET IT FOR FREE and track your savings!
SquareSpot has certainly cornered the market on the types of deals mamas want to see . Click there –> to get square!
[Disclosure: SquareSpot is a Tiny Oranges Sponsor – Check out their cute ad in our right column!]