How many times have you been at preschool or the park and met a new mom and said, "we should exchange info!"?
Well, these darling call me cards are the quick and easy way to share your info and the best part is that 100% of the price is a tax-deductible donation to Team Tiny Oranges to benefit the Pediatric Cancer Research Foundation!
That's right, place your order between now and April 30th (day before our big race!) and you will get 50 super cute, customized cards for only $35, again, 100% donated.
This fundraiser is hosted by two of my amazingly talented team members, Calee & Brenda.
Here's how to order:
1. Click here to look at all 26 designs (A – Z) & pick your favorite!  Brenda even designed an orange-themed one just for me, check out design "W"! So cute!

2. Click here to make your $35 donation to Calee's personal fundraising page.
3. Email your design choice and personalization info for each line to calee@existdesigns.biz.
4. Calee's company, eXist designs, will print the cards and ship to you.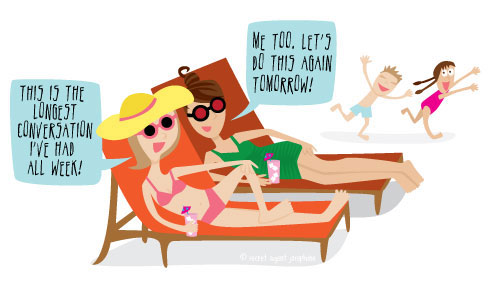 A little about Brenda & Calee…
Brenda Ponnay is a stealthy secret agent who juggles parenthood to her adorable daughter by day and freelance graphic design/illustration by night. Whether it's painting, baking, drawing, making castles out of cardboard boxes or just doing the laundry with flair, Brenda Ponnay has learned that what really makes her happy is being creative every single day.  You can see more of Brenda's darling work over at Secret Agent Josephine.
Calee M. Lee is the copywriting arm of eXist designs, because, as we all know, "If it's not online, it doesn't exist." eXist designs specializes in web and print marketing services for small to midsize businesses. As part of our commitment to PCRF, we are proud to support the Tiny Oranges Team and will be donating an additional 10% of all print jobs in the month of April. From business cards, to stationery to large-format banners and canvases, eXist designs offers low prices and exceptional service to all our clients.  Contact us for a customized printing quote.
Thanks so much ladies! I am blessed to have you both on my team AND so grateful to you for putting together this fundraiser!
REMINDER!  Huge COMMUNITY GARAGE SALE THIS WEEKEND! with all proceeds benefiting PCRF and our team!!   Shop, shop, shop and raise money to fight pediatric cancer!!
I am taking the day off from posting tomorrow, so have a great weekend everyone and I will see you back on Monday!  XOXO