Hooray!  It's a "Giveaway a Day!" week!   Every day this week Tiny Oranges will feature a new giveaway- right in time for the holidays! Please forward to all your friends to spread the word and make sure to take advantage and ENTER!  Here is a great product to kick off our week…
Clipa is an ingenious (and cute!)  little clip that hangs on your bag and turns into an instant handbag hanger.  Does it bug you when there is no place to put your purse at a restaurant?   Just the other day I was in a pizza place and there was no room for my purse in the booth, so it ended up on the floor by my feet.   Probably right on top of smashed pepperoni and smeared tomato sauce for all I know!  With Clipa, you just open it up and you can hang your bag right on the table! Click HERE for a demo.
At only $19.99 each, they come in different finishes and look really stylish on any bag. Want to know my personal favorite use of this product? Public restrooms with NO hook!   There is nothing worse than trying to maneuver  around while balancing with a huge bag on your shoulder. You can use your Clipa and hang your bag right on the door. It's really a brilliant idea!
Clipa is having a CYBER MONDAY sale today only where all orders have FREE standard shipping!  This would make a fun and useful gift for any mama this holiday.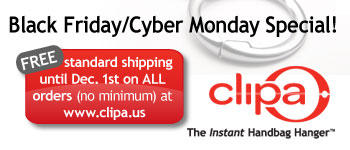 Hooray!  It's a Tiny Giveaway! Three lucky winners will each win a Clipa!  To enter, simply leave a comment on this post!  You can enter all week, as many times as you would like, just have your comments in by Sunday, 12/6/09 at 5pm PST.  I will post the winner next Monday!   Check back tomorrow for another fun giveaway!
Congratulations!  The Pure Blu Spa 50-minute treatment winner is…ANNIE B.! Enjoy!