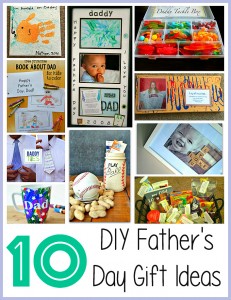 For anyone looking for some cute DIY Fathers Day gift ideas from kids, I've rounded up some of my Pinterest favorites.  These are super adorable and super easy to make!
1. Book About Dad
Image and idea found on www.themeasuredmom.com
This free printable Father's Day "book" template is perfect for kiddos who are old enough to draw their daddy some fun pictures…and write about what they love most about him.
2. Daddy Tackle Box
Image and idea found on www.redtri.com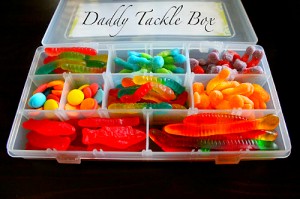 I saw this idea and thought it was adorable!  Pick up an inexpensive plastic container with multiple sections, and select candy that resembles anything fishing-related (Swedish fish and gummy worms are my favorite!).  A yummy treat for dad…and a cute spin for daddies who love to fish. A daddy "tackle" box!!
3. I'm hooked on Daddy!
Speaking of fishing, isn't this precious?!  I'm little biased since my son made this at preschool.  His preschool teacher had each child dip their hand in orange paint and carefully make a print on a white ceramic tile.  And since (at the time) this was the "3s and 4s" class, she finished up the masterpiece by painting the hook and ocean…plus added the "I'm hooked on daddy," with my son's name and date.  My husband LOVED this!
4. Daddy Ties
Image and idea found on www.thecraftingchicks.com
This is a great way to not only make daddy a new "tie," but also have your kiddo fill out one of those cute surveys about their daddy.  I loved this presentation.  Plus this site offers it as a free printable!
5. Daddy Art Frame
Idea and image found on www.itsysparks.com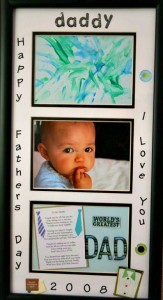 You can pick up one of these three tier frames pretty inexpensively at Target or Walmart.  Choose a finger paint picture (or really any art your child has made) and crop it to fit in the first photo spot.  Add your kiddo's picture in the next space, and finally write a personal message, or print this super sweet poem for daddies (found on the site) and put it in the third spot.  Add any stickers or writing to the matte part of the frame, and voila!  A great keepsake for daddy!
6. "A Chip Off the Old Block"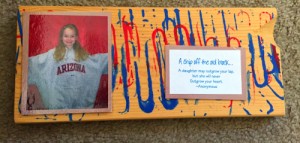 This is another favorite project from our preschool, back when Elizabeth was little.  Her teachers got a smooth piece of wood and made a "chip" in the wood block. Then each child got to paint/decorate the wood.  Next, they had each child wear something that represented their daddy (for us, of course, was his favorite Wildcats sweatshirt!), printed the picture, and hot glued the picture on the wood block.  The final touch?  A sweet little "Chip off the old block" print-out.  My husband still has this in his office.  Such a cute idea!
7. "Play Ball" Mason Jar
Image and idea found on www.hometalk.com
This is so fun for any sports loving dad…you can decorate a mason jar to look like a baseball (pictured above), a basketball, a football, a soccer ball – the sky's the limit!  For a little extra pizazz, add sporting tickets to an upcoming game!
8. New Daddy Survival Kit
Image and idea found on www.lifewiththesweetmans.wordpress.com
I LOVE this idea for new dads.  Check out the site for details on what to put in this gift basket – they suggest adding a little attached note to each "survival" item…some are cute, some are hilarious!  Great for new dads or dads-to-be.
9. Father's Day "Scrabble" Frame
Image and idea found on www.zitzmanfam.blogspot.com
Talk about simple…and cute!  Pick a frame you love, print a picture of your kiddo(s) that you love, and hot glue scrabble letters to the frame.  You can spell out any message you want…"I love you," or "You are my hero," or "Super Dad."  The possibilities are endless. Done and done.
10. Kid-Made Scribble Mug
Image and idea found on www.iheartartsncrafts.com
Last, but not least, this site walks you through how to make a "scribble" mug.  If you have coffee or tea loving dad, this would be a great DIY gift idea!  Check out the site for step-by-step instructions.  Love this!
Do you have any favorite DIY or easy Father's Day crafts that you've had success with?  If so, please share below!  Let's show all of the daddies out there some love!