Hi my name is Jen and I hate to cook.
Over the years I have tried and tried to pick up cooking and have been unsuccessful.  I have gotten away with it because I have a husband that can cook.  But during the weeknights, the kids eat early and I am responsible for dinner. Seeing that our family has to EAT and I want them to eat HEALTHY – I  have come to the realizations that my quesadillas and mac and cheese  are not going to cut it anymore.
Over the holidays, my girlfriend shared with me Jessica Seinfeld's website Do It Delicious.  I felt like she made her site just for me, because she not only features EASY recipes but also how-to VIDEOS so a cooking-challenged person can learn exactly how to make something.  Hooray!
I am convinced this will be the year I actually learn to make a handful of easy weeknight dinner recipes. So I decided to start with her Seriously Basic Roast Chicken Recipe.
I was nervous at first, but after watching her video I was ready to take on the challenge!  And surprisingly, it WAS seriously basic!
So here is recipe number 1 in my new little file of dinners. I am going to break it down into easy to follow instructions just in case any non-cooks are reading this (like me!) and want to try it.   Thank you Jessica.  My husband thanks you too.  Here goes….
Easy dinner number 1:
 Whole roasted chicken
Sauteed zuccini & squash
Rice or any other side dish of your choice
You will need:
(1) 4 to 4 1/2 lb whole roasting chicken
Salt
Pepper
1 lemon
Fresh sprigs of rosemary
Olive oil
Cooking twine
Zucchini
Yellow squash
Jasmine rice (I like the kind from Trader Joe's) or potato or anything else you want on the side
THE CHICKEN:
Preheat oven to 400 degrees.   Take whole chicken out of the plastic wrapping.  Here was the hardest part for me – then put your hand inside and remove all the gizzards. Ew.  Do it quick.  Rinse the chicken with water and pat dry and place on a cutting board.
Then you season the bird with about 1 tablespoon of kosher salt and 1/2 teaspoon of black pepper.  Just sprinkle it all over.
If the lemon is small, pierce a few times with a knife.  Or if it is big, cut the lemon into quarters and stuff it (yep) inside the chicken.   Take the springs of rosemary and also stick them inside with the lemon.
Then turn the chicken upside down and tie the legs together with the cooking twine.   When you are done, flip the chicken over and give it a rubdown with approximately 1 tablespoon of olive oil.
Place on a cooking sheet and place in the oven with legs to the back.
Jessica's site says to cook around 45 – 60 minutes for a 4 lb bird.  My chicken was 4.5 lbs and took around 1 hour 15 minutes.
When the time is up, place a meat thermometer into the thigh and make sure it has reached 165 degrees.   Let sit for 10 minutes before carving.
Look!  I did it!  I did it!
Now onto the veggies.  This was the first time I actually sauteed veggies.  I know.  Thanks to my sister in law for teaching me!
Cut the zucchini and squash into circles about this width and heat about 1 tablespoon of olive oil on medium heat until the pan is nice and hot.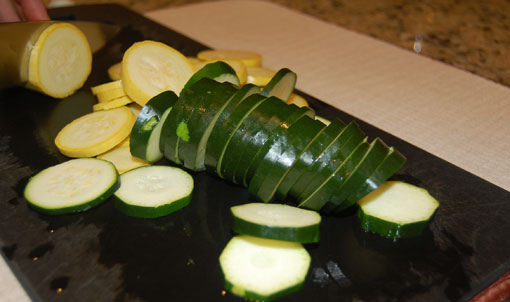 The key is making sure the pan is hot enough.  Then you will put them into the pan and flip with a spatula to coat veggies with the olive oil.
I seasoned them with some kosher salt, pepper and a little Italian seasoning.  And I have to say, they came out pretty good!
You want to leave them on one side for a couple minutes to get brown and then flip.  You will be able to tell when they are cooked through.
Meanwhile, you can be cooking a rice or potato or anything else you would like.
Best part about a whole chicken is the LEFTOVERS.  I used the leftovers throughout the week in my famous quesadillas, salads, etc.   And with Morgan's food allergies, chicken is a great thing to have on hand.
Viola!  The roasted chicken dinner!
ATTENTION MOMMIES WHO COOK:
If you have an EASY EASY EASY go-to weeknight dinner recipe – one you think even I could do – please send it to me at jennifer@tinyoranges.com and I will feature your blog / recipe on my site after I give it the dummy test (me being the dummy) to see if I can make it.  And to see if I can not only make it, but if it is edible.   Because if I can do it, anyone can.
Happy cooking (..not hating it!)