These place cards with quotes and sayings about family were a hit at our family Mother's Day party which is why I wanted to share them with you.  They would be perfect for any family gathering throughout the year.
I wanted to make our Mother's Day celebration a focus on family…the importance of family, and the bonds that connect us. We did a big family style table and I created individual place cards with quotes and sayings about family to include.
I created the place cards using a website called PicMonkey.com, which is a free design site. It's awesome. I use it all the time for photo editing and my blog graphics. Here's the how-to on how to make your place cards:
Go to PicMonkey.com, then:
1. Click *t design icon at top, then select 8 x 10 and you should be brought to a blank white page 8 x 10 in size.
2. On the left column, click RESIZE, then uncheck "keep proportions" and change 3000 in second box to 3300, this will make your page roughly 8 x 11, or a letter size page you can run through your printer.
3. Click "Tt" icon on left, and add your text.  You can design 4 place cards to a page. Fonts I used are "De Walpergen Pica" and "CoffeeBreak" which is the scripty one and I am obsessed with it. That's a Premium font for PicMonkey Royale members, but you can sign up for a free 30 trial and get it. If you want to continue using PicMonkey like I do, the $33 per year for all the Premium design perks is SO worth it!
4. When you are done designing, click "Save" and save as a JPG, always using "Sean" for the best quality.  Then you can open it from your computer and print like a normal letter, but on a white card stock.
Your finished design should look something like this:
5. Then you cut the squares out, and can decorate if you would like.  I cut little scrapbook design pages into strips to give them color, and added them either between the name and the quote, or at the bottom of the place card. I then rolled utensils in napkins, and adhered the place card to the utensil with a double stick tape tab.
And without further ado, here are the quotes and sayings about family I was able to pull off the internet after spending a gazillion hours on Pinterest searching things like quotes and sayings about family, quotes about family, quotes about mothers, cute quotes for kids, bible verses about family, etc.
Quotes and Sayings About Family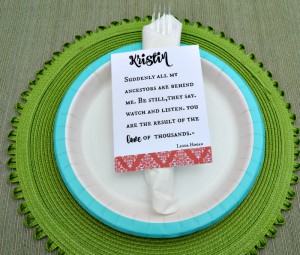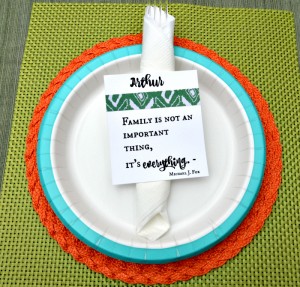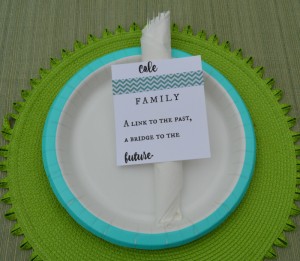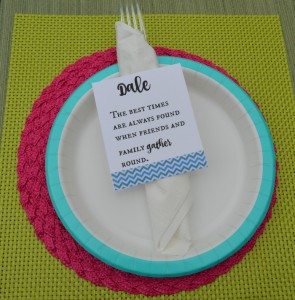 Quotes and Sayings about Mothers 
Bible and Faith Based Quotes about Family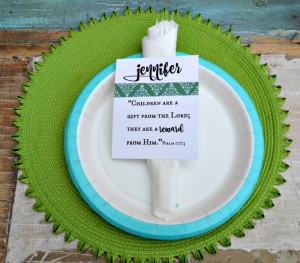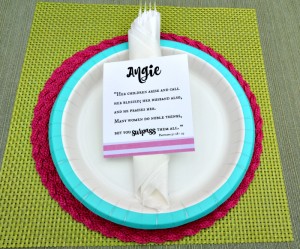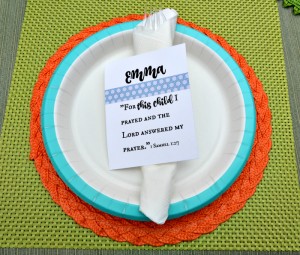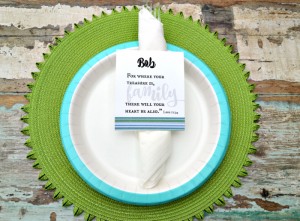 Quotes for the Kids 
And there you have it! Hope this has given you a cute idea on how to personalize your next family party. Everyone loved the quote, and my uncle had us all go around and read ours so we could hear them all. Enjoy!