Today is a happy day because I have partnered with one of my favorite personalized holiday card sites, Minted, to offer you a chance to win $200 towards your holiday card order. Simply follow this link www.minted.com/tinyoranges, enter your email address and Christmas will come early to one very lucky reader this year.
Receiving holiday photo cards in the mail each year is my favorite part of the holiday season because it is a reminder of all the friends and family we love so much.
I adore this company for many reasons, let me tell you why.
Indie Designs
Minted carries designs from independent graphic designers around the globe.  This means the site is full lots of different looks and styles, with unique options and variety. 
Customizable Options
Most all of the cards come with the option to customize with cool shapes and change the color palate to match your photo colors.
But one of my VERY favorite things about Minted are the endless backer options!
I love the opportunity  to add in some extra photos on the back and say a few words about what our year entailed. To me, it's a great way to make your card just that much more personal.
Minted Makes Finding Your Card Easy 
Sometimes it can get a little overwhelming when you sit down to look at photo card designs and get sucked into browsing 98 pages of possibilities.
Minted makes finding your perfect design EASY by helping you narrow down your search. In their left side bar, you can choose things like number of photos on front, format, price, style, even photo orientation, and it will show only the results that might be a fit for what you are looking for.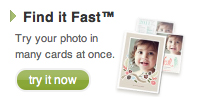 But by far my FAVORITE searching tool I used this year to find my card is their "Find it Fast" feature.
In the top left column, you can upload your photo(s), narrow down your search, and Find it Fast will show the designs with YOUR photo in it so you can quickly scan and see which ones grab your attention.  I found my card in a fraction of  the time this year because of Find it Fast.
Great Customer Service 
Once you find your perfect card, you can easily customize with all your details.  Once submitted, you will receive a proof via email to approve.  I had a hard time viewing the back side of my card with my preview in my browser, and customer service went above and beyond to make sure I got my proof. Plus, they were QUICK.
I highly recommend checking out Minted.com for your holiday cards this year!  With all of their amazing custom options you are sure to find a card that makes your friends say "WOW! What a cute holiday card!" Guarantee it!
Visit www.minted.com/tinyoranges again to enter to win $200 towards your cards this year. Good luck!!
[Disclosure: Tiny Oranges is a Minted Affiliate, so we would love it if you decide to order through Minted, if you would click through here first! We also received complimentary photo card orders this year to help facilitate this review. 100% of my opinions are my own. I have been a Minted fan for YEARS.]