Disclosure: This is a sponsored post. All opinions are 100% my own, I love Pictli!
———->>>>>   Giveaway!   <<<<<———-
Make sure to enter below to win TWO Pictli framed photo gifts to preserve your summer memories –
ONE for you and ONE to send as a gift!
Framed Photo Gifts
Every summer my girls go to San Diego to stay with their grandparents for four fun filled days of non-stop activities. My sister-in-law lives  in San Diego as well, and this year, in addition to all the fun stuff the grandparents planned, she took my girls stand up paddle boarding for the first time along with treating them to an entire day at the Aquatica Water Park by SeaWorld.
Anyone who can brave a water park with two kids for the day deserves a big thank you, so I went online to Pictli and created a framed photo gift of the girls paddle boarding to send her as a thank you gift.  And, it took me all of about 5 minutes. I LOVE IT! 
Pictli's New Line of Cape Cod Style Picture Frames 
Pictli is a website and mobile app where you can instantly create framed photo gifts to be shipped directly to the recipient (or yourself)!
Pictli's new line of Cape Cod style picture frames are the perfect ones to chose from to preserve your summer vacation memories. I love all their colors and the distressed wood style frames. Reminds me of the beach.
This photo of the girls stand up paddle boarding was the perfect pic to commemorate the fun time they had with their aunt and I loved this neutral summery frame.

The Inspiration for Pictli 
I asked Pictli Owner, and Chief Memory Maker, Frank Barbieri how he got the idea to start the company. He said he got the idea after the birth of his daughter when Frank and his wife wanted to send framed photo gifts directly to their relatives.  But the options of companies to use were not great quality, too expensive and a hard-to-use design process.
They thought, "We can fix all those things!" and a high quality, affordable, user-friendly framed photo gift site was born.
His passion for his company and obsession with making sure his customer experience is always a great one has made Pictli into what it is today.
And think, the inspiration for the company started with this precious little face in a Pictli frame (Frank's daughter – can you believe the CUTENESS?!)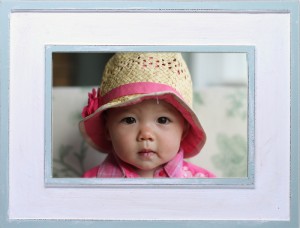 Pictli Makes Sending a Special Gift So Easy 
Giving framed photo gifts are one of the most special, personal gifts you can give. But it can be a hassle right? You have to get the photo actually printed, pick out a frame, frame it and then package it to ship and mail.
Not with Pictli.
To order framed photo gifts from Pictli is so easy it's silly.  Via their website or free mobile app you can drag and drop a photo from your phone, computer or pull images from Facebook or Instagram.
Then you can "try on" the different style frames on your image, chose your recipient, write a special note to include, and Pictli will deliver your beautiful framed photo gifts wrapped in cute orange tissue tied with your personal note to the recipient.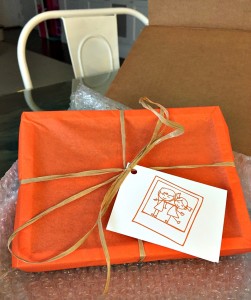 Bookmark the site ladies – it will be your new go-to spot for gifts.
Enter to Win Two Pictli Framed Photo Gifts!
Preserve your summer memories with Pictli and enter to win two framed photos – one for you and one to send as a gift! Good luck!