I don't know about you, but my kids grow overnight. Literally. My "little" ones have always been on the tall side…frequenting one size for only a few precious months (or even weeks when they were babies!) before springing into the next, which is why I was so very excited to learn more about Oh Very Young children's resale boutique in Long Beach – a family friendly shop run by a mom and her two daughters.
You can sell clothes, buy clothes and shop for fun accessories (hats or bows, anyone?) – all in fantastic shape and adorable. Oh, and browse lots of name brands.
Give these lovely ladies a call, make an appointment, and take your gently loved kiddo clothes in for their buy back program – they make it so easy and will work around your schedule. You can drop off your items and come back later for your total, or stay and chat if you have time, have a cup of coffee and go over each item (this takes about a half hour).
I say have a cup of coffee because when you talk to these ladies, it feels like you're chatting with a fellow girlfriend.  Building community is one of Oh Very Young's top priorities – whether it is supporting a local fund raiser or school, or participating in their business neighborhood "Art Walks" on the first Friday of every month (moms – take note…they provide free arts and crafts and snacks to your little ones in their booth).
They want their customers to feel like family.
Now, onto the topic of shopping…shopping by myself is a luxury at this point in my life. I usually have my two very active munchkins in tow…so I typically avoid shopping for my kids, with my kids. I know you understand.
But not at Oh Very Young! Fellow mamas, this shop is made for you and your kids to enjoy.
While you browse the racks and find great deals, they provide coloring projects, let the kids play with their toys for sale (Their motto? If it's within a kid's reach, go for it! It was meant to be played with!), and have even been known to dole out snacks (ummm, this is particularly helpful if I've run out of my granola bar/raisin/apple slices shopping combo to bribe my kids to sit still).
Now, throw in a "Mommy Happy Hour" every other month with complimentary hors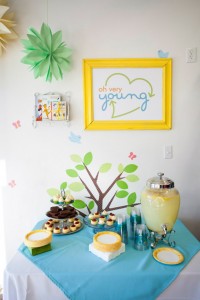 d'oeuvres, refreshments (sometimes even wine!), fabulous raffle prizes, and shopping for adorable kid stuff, and I am one happy mama!
So, take a little shopping trip and see for yourself – I am confident that you will find something here you that you love…whether it is a super cute kid outfit, a "new" toy or book for your little one, or even a homemade goodie bag for car trips.
And, let the kids play while you shop – enjoy!
What you need to know:
Phone:
Call them at (562) 492-6200
Hours:
10 a.m. – 5 p.m. (special event times may vary)
Address:
4378 Atlantic Ave.
Long Beach, CA  90807
*If you would like to sell your kid clothes to Oh Very Young, please call to make an appointment!
 [Images provided by Oh Very Young. Disclosure: This is a sponsored post to help spread the word about this amazing shopping experience for So Cal families!]