This is my third post in my series of four in honor of Earth Month sponsored by SCOTT Naturals™ on different ways we can take small steps to be more green. Today's post is on How to Green Your Child's Lunch.
The good news is that packing an eco-friendly green lunch is not only easy, but also FUN! Here are four ways you can make your child's lunch WASTE-FREE! If you have any other suggestions, please comment below!

Your lunchbox system, consisting of a reusable lunchbox and reusable containers is the most important component part of an eco-friendly lunch.
Now days there are lots of great products out there to make packing a green lunch inspiring.  Here are a couple of companies I recently found: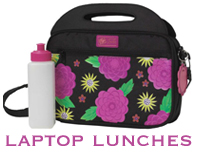 Laptop Lunches came recommended by a Tiny Oranges reader and I was sent one of their cool bento kits for review.
I love this outer carry case. The design includes a removable shoulder strap, which means it can be carried over the shoulder, messenger bag style, or you can remove the strap and carry it like a traditional lunchbox. It is even thin enough to put it in your child's backpack.
The innovative system inside is made up of 4 different sized bento-style boxes, including a miniature bento with lid for dipping type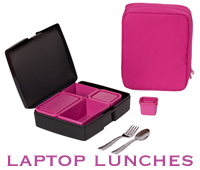 ingredients like a salad dressing or hummus.
Based off of the ChooseMyPlate.gov guidelines for balanced eating, these containers are a great reminder of not only the portion size, but also the variety of healthy foods we should be packing for our kids.
And may I note, these are not just for KIDS! These would make the perfect lunchbox for an adult to take to work.
Laptop Lunches are made in the U.S.A with NO phthalates, BPA, lead or PVC. They are also top shelf dishwasher  safe.
Laptop Lunches also have 365 days of lunch menu ideas on their website. Amazing resource when you are tired of making the same 'ole, same 'ole!
Another great option are the complete lunchbox kits from Green To Go Lunchware.
These sets come with an insulated lunch bag, a five compartment leak-proof food container and an 8-oz stainless bottle.
The bag also has an erasable white board for fun notes or reminders and a mesh velcro pouch to store utensils and napkin.
The lunchbox sets are BPA free, PVC-free and lead-free.
If you are looking for something smaller, with less compartments, their small lunchbox kit has three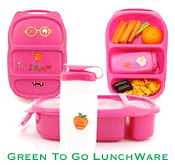 containers in one to keep small lunches from spilling.

It also comes with 100+ awesome dishwasher-safe stickers so your child can have fun personalizing (photo right). My daughter loved this!
They are made in the USA, top dishwasher safe, and free of BPA and phthalates.
Enter Green to Go Lunchware coupon promo code ORANGES15 to get 15% off your order now through 06/30/12. Yay!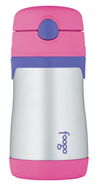 The second most important aspect of an eco-friendly lunch is a reusable drink bottle.
Just think how much waste it would save if every mom reading this switched from juice boxes or bottled water to a reusable drink container.
There are a gazillion of these on the market. Personally, we have used the Thermos Foogo Straw Bottle for years.


If your child's lunch is one that requires a fork or spoon, or both, it is much more eco-friendly to pack your own reusable flatware instead of plasticware.
Laptop Lunches sells this flatware set so you can use the same utensils day after day and keep the plastic out of the trash.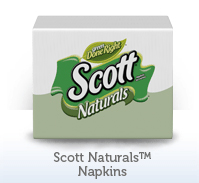 Did you know that SCOTT Naturals™ napkins are made with 80% recycled paper??
That is pretty a-mazing!
What does that mean exactly?  It means that by choosing to use a SCOTT Naturals™ napkin vs. a non-recycled napkin you will be saving trees.
That alone is probably one of the easiest things any of us can do to help green our child's lunch!
Speaking of saving trees, SCOTT Naturals™ invites you to take the 4 Week Test Drive during the month of April.
Simply go to scottbrand.com and pledge to switch to SCOTT Naturals™ for four weeks and try their selection of hybrid products.
When you make the pledge, you will enter in your zip code, and the state with the most pledges can win $50,000 towards local forest and land conservation efforts to preserve America's great outdoors. Click HERE and take the pledge!
Product Guide:
Click here to shop Laptop Lunches * Click here to shop Green To Go
Click here to shop Foogo products from Thermos
[Disclosure: SCOTT Naturals™ is compensating me for my time and participation in this campaign. All of the above are my honest opinions, as always. I have made the switch to SCOTT Naturals™ and have taken the 4 Week Test Drive pledge! I hope you will too! I also received a free bento kit from Laptop Lunches and small lunchbox kit from Green to Go to help facilitate this review. As a result I also signed up to be a part of the Laptop Lunches affiliate program as I love their products. And there, my friends, is everything you need to know!]