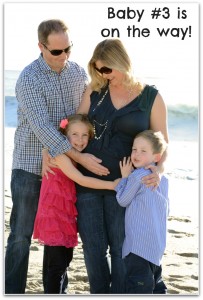 I am so excited to share with all of you…I'm pregnant!
Wow.  That's still so awesome (and a little weird!) to say, no matter how many times I say it or how many times I write it.
After 10 years of marriage, my husband and I are ecstatic to welcome our third baby this August.  Woo hoo!!  I am excited to share this journey with you, and take this opportunity to write more about pregnancy and babies!  Yes, as you can imagine, I have babies on the brain.
What I'm quickly realizing is that a lot has changed in the 4.5 years since I've been pregnant. A lot.  New gizmos, new trends, new debates, new terminology.  In other words, plenty of new blogs to write and explore!
But first, a little about my family and our announcement…
As you have probably gotten to know my family over the years, we are blessed with a beautiful 7 year-old daughter and 4.5 year-old son.  Who couldn't be more excited and happy to have "their" new baby here this summer.
As we've started sharing this fantastic baby news with family and friends (it has been sooooo hard to keep quiet!), one of the first questions we have been asked (hesitantly) is if this was a (shhhh!!!) planned pregnancy.  It's okay to ask us!  We won't be offended, promise!  The answer?  It absolutely was.  We purposely decided to put an age gap between our 2nd and 3rd baby.  Because, well….we were exhausted.
I don't mean a little tired.  I mean EXHAUSTED.  Our kiddos are about 2.5 years apart, and Elizabeth was still in diapers when Nathan was born.  It has been a crazy, amazing, loud, chaotic, fun parenthood journey, learning to navigate being a mom of two close in age.  The best, actually. But frankly, we needed a little break from the baby stage.  Just keeping it real, mamas.
I can totally relate to Susanne's "To Third or Not to Third" post, because that was us.  We had "the talk," about, oh, 450 times over the years. Ultimately, we decided that we LOVE being parents, LOVE our precious kiddos, and just saw ourselves having a big family.  And apparently, very little sleep – ha ha!
Because we are starting completely over (gulp).  Which is both very exciting and also terrifying.  Let's start dragging out the 15,000 tupperware "baby bins" full of clothes, toys, blankies, etc., we've been storing in the garage forever!  (Yep, I kept everything, "just in case." I bet you're not surprised.)
I'll have two in elementary school and an infant snuggling, crying, feeding, fussing, and cooing at home.  Someone reminded me the other day that when this newest baby is in kindergarten, my oldest will be in 8th grade. O.M.G.  Of course, I can do the math.  But seriously, just putting their age difference in that kind of perspective made me stop in my tracks.
Speaking of my two "bigs," (Yes, I have now promoted my "baby" boy to a "big." He's almost five…tear!), they have been asking us for a new baby for more than a year.  They are absolutely over-the-moon happy about the pregnancy, and we talk about it as their baby, too.  They give my little baby bump kisses and hugs, and read it stories.  Which makes me cry.  Because I pretty much cry at anything theses days.  I know they are going to be the BEST helpers, protectors, and friends to this new little life.
So, here we go!  I can't wait to share this fun, crazy pregnancy journey with you…stay tuned!
Photo taken by Fotograafe Photo Studio & Gallery