Well there is no doubt the shopping season is in full swing and nothing makes me happier than sharing with you a gift idea that is all about giving hope to women across the world this holiday season.
31bits.com is an organization that sells jewelry handmade by women displaced by war in Northern Uganda.  Each piece is bought directly from these women and is made out of 100% recycled paper, newspaper and magazines.   31 Bits is centered around the creative art and entrepreneurship present in all women.  By creating an international marketplace for their creations, the proceeds assist these women with education, nutrition and healthcare for their families.
Shop online to see their selection of bracelets and necklaces, priced between $8.00 and $40.00.  They are absolutely beautiful.  Even better, you will know that you are helping the woman whose hands helped create it.
Hooray!  It's a Tiny Giveaway!
31 Bits is giving away this gorgeous 7-strand bracelet: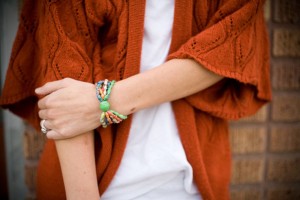 To enter, simply leave a comment below, you can comment as many times as you would like, they just have to be in before 12pm PST on Sunday, 12/13.  I will post the winner next Monday. Good luck!
Congratulations!!!  The 3 Clipa winners are… Elle, Laura and Amy!