Last month 8-year-old girl Maddy Middleton was abducted, raped and murdered in her Santa Cruz apartment complex. The perpetrator was not a stranger and this was not a random abduction.  The killer was a 15-year-old boy who lived in her building who lured her to his apartment. Her tragic story shook me to the core. As a parent, I can't even fathom the pain.
I wanted to share this insightful article posted on the Facebook page of Orange County clinical psychologist, Dr. Jerry Weichman, on how to talk to our kids when stories like this are covered in the media along with other important reminders about how to keep your child safe.  The "Staying Put" lesson is so important. His article was so enlightening to me I asked if I could share in this post. Please comment below with any comments or questions.
Keeping Your Child Safe – Tips & Insight || by Dr. Jerry Weichman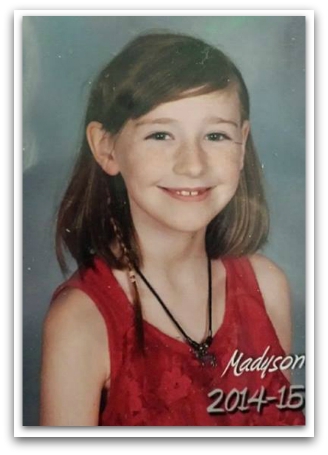 I have fielded some requests this week from parents asking how to discuss with younger kids tragic events that end up getting a lot of media coverage. Specifically last month the tragic abduction and death of 8 year old Maddy Middleton in Santa Cruz was one that struck a chord with many parents.
First, I think we need to be mindful of where the balance is in this discussion with our kids to ensure that they're safe but also not to create an anxiety-ridden child or teenager with agoraphobia.
I would go so far as to say that I would not recommend bringing the incident up with your children nor sharing the details unless your child actually asks you about it.
If your child does bring up an event that they have heard about, parents need to consider the child's maturity level, emotional capacity, and need to listen to your child's specific questions before giving information.
Oftentimes, parents volunteer more details than a child is actually seeking. In the end, kids usually are seeking simple facts and reassurance that they are safe.
However, if these stories serve more as a wake-up call to parents about talking with their kids about safety in general, here are my tips:
Staying Put
Regardless of whether or not your child could potentially be lured by someone they know, such as was the case with Maddy, or by a complete stranger, the first issue at hand is a child leaving the location when they were supposed to be staying put. This is what you need to be focusing on and continually reiterating to your kids. Bottom line, the message needs to be, "You do not ever leave where you are supposed to be without talking with Mom/Dad first and asking for my permission to do so."
Stranger Danger
Your kids are naturally going to be much more wary of a stranger because most parents talk about stranger danger but it is the people whom they do know who are the "sleepers." That's to say, the predators who that pose the biggest problems to our kids are the familiar faces because they seem trustworthy simply because your child knows them. This is why parents need to also discuss behaviors such as people they know (adults and kids) asking your child to keep a secret.
How to Discuss The Rules
The conversation about not departing the area where they should be without first asking parental permission should be short in duration (30 seconds max) but repeated at least every other week with them to help convert it to long-term memory. Now, just because your child has heard this rule over and over know this doesn't mean that when it actually happens they'll remember. I recommend once you've had multiple conversations with your child about this putting them to the actual test to see if they truly do get it. Call a neighbor or friend and have them come to your child (whether in front of the house, at a park, etc) and ask them if they want to come over right now to do something your kid really likes to do. Don't admonish or "bust" your child if they make the wrong decision with this test. You don't want your kid to feel tricked by you. Instead just know you have your answer about how truly safe your kid is with regards to staying put versus going somewhere without permission. Simply make a bigger point of discussing the rules with them.
Trust Your Gut
Lastly always trust your parental intuition, especially you moms out there. I've never seen a mother's intuition be wrong in 17 years of working with teens and parents. Listen to your gut, to that feeling and to that thought in your head. If you experience an odd feeling about any individual, have a side conversation with your child that being alone around that individual or being in their home is off limits. If they ask why, just tell them that there's adult information that you can't share with them and your job as a parent is to keep them "out of trouble." Do not tell your kid that the individual is "bad" or that your job as a parent is to keep them "safe." These are trigger words and you run the risk of your child (depending on the age of your kid) telling the other person's child that their home isn't safe and now you have a different issue to deal with in your community.