I am cracking up that I am sharing my famous kid-friendly burrito / quesadilla "recipe" today because it's really not that special, but there is something about this combination that kids literally go CRAZY for.
This is my go-to after school snack or meal when we have play dates and my girls' friends love them so much that they ask for them every time.
In fact, on a few occasions I have heard a friend express to my daughter in private, and I am not joking, "You are SO lucky to have a mom that makes such good quesadillas."
I am laughing right now as I type this, because if you know me, I am a really bad cook. But to the 5 – 9 year old crowd, I am a culinary hit.
Kid-friendly Burrito Recipes (or Quesadillas)
Ingredients:
Tortillas (I use flour for the burritos and 2 corn for the quesadillas)
Shredded mexican cheese
Butter (I use the vegan Earth Balance buttery spread – we fell in love with this product when my daughter used to be allergic to milk and eggs and still buy it)
Organic black beans (I use Trader Joe's)
Organic brown rice (I use Trader Joe's)
Steps:
1. Hit a skillet to medium heat, a little hotter if your kids like the outside more on the crispy side, a little cooler if your kids like them softer.
2. Butter the outside of the tortilla. I believe this is one of the secrets that make them yummier. If doing a quesadilla, butter the bottom side of the corn tortilla, and then butter the outside top of the 2nd corn tortilla so when you flip both sides get brown.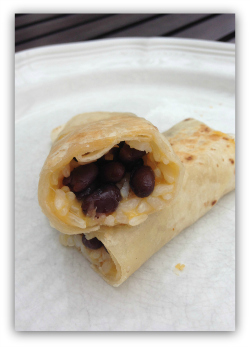 3. Add beans, rice and cheese in the tortilla and let it melt together.
For the burrito, fold over the edges with two spatulas to make it into a burrito and turn over to "seal" it with the flap side down.
Or, you can roll it up to make it more like a rolled taco (left).
For the quesadillas, I let the cheese adhere to the top tortilla, then flip the whole thing over until brown on both sides.
4. I then cut the quesadillas into triangles, and the burrito into two pieces to make it cooler for eating.
For play dates, doing the quesadillas like with just cheese also work, and are even easier to throw together. Plus, the triangles make for easy serving.  Just don't put away your materials until the kids are done. I have been known to have to make additional batches!
School Lunches and Sports Snacks 
These also make great school lunches because they keep well in aluminum foil AND my oldest daughter often eats these before her long gymnastics workout (and sometimes I will send for a mid-workout snack too.) I think it's a good sport snack for the mix of carbs (rice + tortilla) and protein (black beans + cheese).
There you go friends, that is the secret to my magic burritos and quesadillas. Please try this with your kids and tell me if they love them!