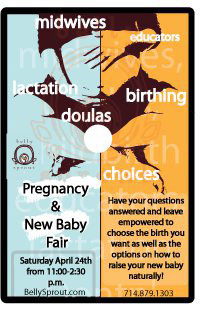 Belly Sprout, a natural mothering store located in Fullerton, is holding a Pregnancy & New Baby Event this Saturday, April 24th, from 11am – 2:30pm at their location.They will have midwives, doulas, childbirth educators, lactation specialists and natural care practitioners and parent-related vendors onsite.
From 11:15am – 12pm there will be a "Birth Options" session where you can meet with local doulas and midwives.
Refreshments, babywearing demos, and a raffle!
Belly Sprout is the first in O.C. to carry an entire range of cloth diapers, as well as many other hard-to-find products.  They also offer education and instruction on how to use your baby carriers and cloth diapers.  Check their website for a complete calendar of classes, workshops and events.
426 W. Commonwealth Avenue, Fullerton, 92832 / 714.879.1303
RSVP to alyce@birthingmemories.com / This is a free event, but please RSVP!

I couldn't let today pass without acknowledging Earth Day!  I am sure as parents we are all concerned about our Earth and the legacy we will leave our children and our children's children.  Small changes, baby steps, can all add up to make a big difference.
So in honor of Earth Day, I thought it might be fun to share one (or more!) small change your family has made to live more green or eco-friendly.
I will start off the comments, but please share your ideas by commenting below.
Personally, I have cut back tremendously on plastic water bottles, by using this thermos water bottle. It goes everywhere I do!
We have also changed out about 80% of our lightbulbs in our house to the Energy Star ones.  Even just replacing one normal light bulb with an energy efficient one can make a difference.
Lastly, I am in love with my iGo Charge Anywhere device.  It allows me to charge my iPod and iPhone UNPLUGGED. No more leaving my phone charging in the wall all night long!  Super convenient because you can charge on the go too! I just read on the iGo Facebook Fan page if you enter code "EARTHFAN" you will get 20% off!  WOO HOO!
Your turn…can't wait to read the responses!