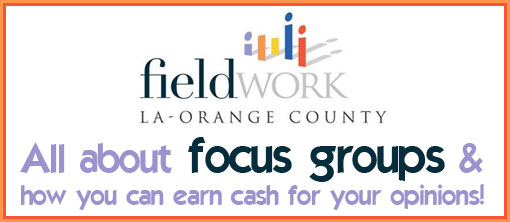 I thought this was a timely post because with the holidays approaching who couldn't use a little extra cash this time of year? Or maybe in January when the credit card bills come in?!
I have personally always wanted to be a part of a focus group because I thought it would be fun to share my opinions on products. When I heard about Fieldwork LA – Orange County marketing research services I was excited to share this information as I thought a lot of mamas might be interested and want to sign up.
Have you heard of a focus group before?  Basically a focus group is a research study on products and services that you use.  Typically lasting 1 – 2 hours, they are round table discussions moderated by market research professionals looking to gather real-life opinions from the consumer – YOU! And, at the end of the discussion, you walk out with payment which is typically anywhere between $50 – $100. Isn't that awesome?