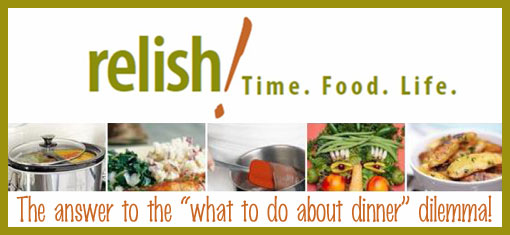 Those of you who follow my blog already know that I hate to cook, but now that I have been practicing more, I am hating it less and less.
One of the things I always disliked about cooking was the fact that I used to find meal planning stressful.  Those of you who cook are probably laughing at me, but a huge part of the stress for me was due to the fact that I was failing to plan ahead.
So when the company Relish! contacted me to tell me about their easy weekly meal planning site, I was intrigued and thought it was something I should probably try.
I signed up and now I am HOOKED! And if my husband met the Relish! founders I am sure he would want to give them a BIG hug!
Here's why I love it:
1. It has made me plan ahead (but made planning ahead easy.)
2. It has taken the stress out of "what am I going to make for dinner?" because I am planning ahead.
3. It has given me ideas for healthy dinners.  Things I would never have thought to make on my own.
4. It has made grocery shopping for the week a breeze.
Here is how it works:
It is an online subscription – a cheap one I might add!  Relish! has actually given me the "Redeem a Voucher" code of "Tiny-O" which gives you 14 days to try it out for free to see if you like it!
To sign up for free, click here, then click "Redeem a Voucher" in the very top left portion of the screen.  Enter your email address and a password, and then you can log in and browse the recipes and meal plans for 14 days.