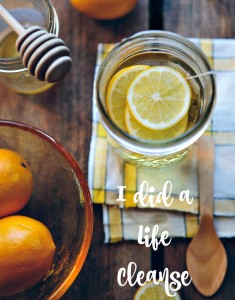 With the New Year upon us I wanted to share a life-changing experience I had this year I have been calling my life cleanse.  Sort of like a dietary cleanse, but for your life. And you can eat! Bonus!
Many times the New Year is filled with all sorts of aspirations, goals and packed with things we want to do more of. But there are some years where it is okay, in fact it is downright liberating, to make it a goal to do less. You heard it here first mamas.
My life cleanse 
My life cleanse was not voluntary or planned, but happened as a result of my mom's cancer diagnosis in August. When my mom was first diagnosed, I didn't know how I was going to make it through. Our family is so close. So close. I went into survival mode because I wanted to be there for every step of this journey with her. To do this, I knew instinctively I had to clear out every obligation in my life to make the time to deal with what was ahead of us, and at that point I had no idea.
Without even truly thinking about it, I cancelled every single obligation off of my calendar with the exception of the basic things I needed to do to take care of my own family and carry on "life as normal" for my girls while also allowing me the time to be able to help my parents. Everything.
I turned down three newly signed blog contracts, emailed our PTA and told them I couldn't do my position I had just signed up for, let the classroom volunteer list pass by me at Back-to-School night without signing up, and canceled every upcoming event, meeting, and work appointment not absolutely necessary.
After I did this, I had the time when my girls were at school to do the calls, research and attend the appointments I needed to get her on the best path of treatment. The time I got to spend with my parents and sister going to all the appointments and coming together to figure this out as a family is something I am so incredibly grateful for.
The Re-Entry: Breathe. Then Listen 
Once she was in treatment, we were on a path to getting her well, and the initial flurry of research and appointments and opinions and 2nd opinions was over. The tornado that had blown into our lives had passed through, of course leaving wreckage in its wake, but once she was in treatment, the dust somewhat settled.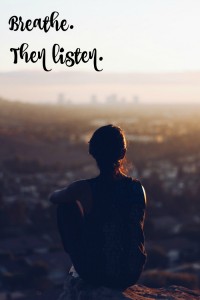 With my calendar cleared out, for the first time in I can't remember how long, I found myself, having time to slow down and breathe.
Then I listened.
When you stop for awhile from the everyday frazzle fest, you give yourself the chance to listen to your life in a new way.  Mamas, our lives are talking to us – we just have to take the time to listen!
I paid attention to the things I was really missing  as a result of my life cleanse, and had new clarity of the things in my life that are truly important to me.
I started adding things one by one back into my calendar, but with a deliberateness I never had before.  If I was going to add something back in, it was something I really wanted, not a "pile it on because I am already too overwhelmed to stop and say no", way.
Feeling frazzled? Give a life cleanse a try. 
As a result of my life cleanse, I realized I was holding myself captive by a million obligations that had accumulated over the years.  And there were so many things I could cut out to free up the space to breathe. It's okay to slow down. It's healthy to slow down.
If you are feeling at the end of your rope, give it a try, even for a week or two. Cancel everything not deemed essential and give yourself permission to do less for a period of time and listen to how you feel. It might just be life-changing for you too.
A little bit of lemonade.
Our family was delivered a big ol' truck full of lemons this year.  But even in the most heinous of situations, there is always, always something positive that can make a little lemonade.
My life cleanse was a little bit of lemonade. I took my life of running 100mph down to 30 and it feels SO GOOD.  In fact, my New Years resolution this year is to stay at 30 and really, consciously take the time to continue listening.
Happy New Years! May 2016 be full of less for you and your families!