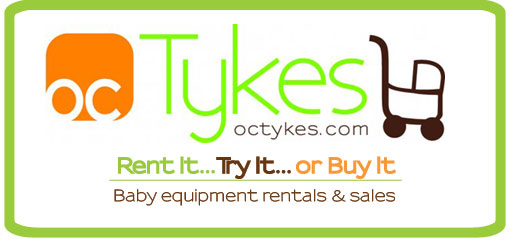 In the past 5 1/2 years I have gone through about five different strollers. With the exception of our Bob Revolution Jogger, I really haven't been completely satisfied with any of them. If I would have known about OC Tykes baby gear store when I was shopping for my stroller, I am sure I would have picked the right one out of the gate and likely saved a lot of money.
OC Tykes is a premier baby gear store located in downtown San Clemente. Specializing in baby gear, their expert staff offers free consultations to make sure you choose the right product to fit your unique needs.
If by chance you are in the market to invest in a new piece of gear and go in this month (by 12/31/11) you will receive 15% off any one full priced item with mention of Tiny Oranges.  That can save you some serious buckeroos if you are looking at a stroller or car seat mamas!  So stash away that Christmas gift cash, and make your way down there after the holidays to look around!
Back to the expert consults, interestingly enough, owner Keli Johnson told me, 9 times out of 10 parents will come in with the intention to purchase one item, and end up walking out with another after meeting with their experts.
Keli believes that a good stroller should not just last you for baby's first year, but should have the capability to take you from the newborn stage up until 4 or 5 years.
This was definitely not true in my case, but I honestly had NO clue what I was doing when I bought my first stroller. I went to a large chain store which shall remain nameless and the associates didn't know one stroller from the next. Sigh, OC Tykes, if I only had known about you…but now I am happy that my readers will!