My mom recently made this recipe from Real Simple for a family dinner and it was soooo yummy!  Even my picky daughter loved it!
Pasta with Chicken Sausage and Broccoli
Serves 4
Hands-On Time: 20m
Total Time: 20m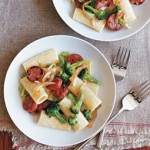 Ingredients
12 ounces rigatoni (about 4 1/2 cups)
1 tablespoon olive oil
1 onion, sliced
6 ounces fully cooked chicken sausage links, sliced
1 small head broccoli, cut into florets and stems sliced
1/4 cup grated Parmesan (1 ounce)
 

Directions
1.  Cook the pasta according to the package directions.
2.  Meanwhile, heat the oil in a large skillet over medium-high heat. Cook the onion, stirring often, for 3 minutes. Add the sausage and cook, stirring, until browned, 2 to 3 minutes. Add the broccoli and 1¼ cups water and simmer, covered, until the broccoli is tender, 5 to 6 minutes.
3.  Toss the pasta with the sausage mixture and any remaining liquid and the Parmesan.
Enjoy!  Click HERE for more easy recipes on Tiny Oranges!