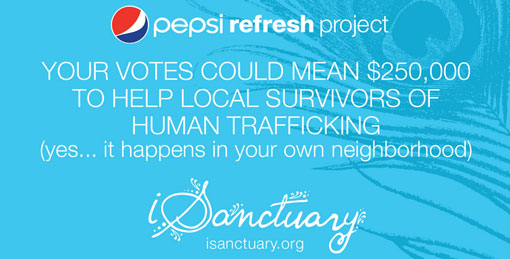 Not terribly uplifting to start the day with this statistic, but the GOOD NEWS is there is something we can do to help and it is as easy as sending a text & voting online now through December 31st.
Did you know each year 800,000 people are trafficked globally?  Of those, 14,500-17,000 people are trafficked into the United States each year.  Yes, INTO the US, including Orange County.
International Sanctuary or iSanctuary is a local organization that works on behalf of survivors of human trafficking and is doing work to advocate for exploited people of the world.  They work to educate the public about human trafficking and its prevention and are instrumental in providing survivors the means to be reintegrated as valued members of a community.
Here is where come in!
The Pepsi Refresh Project is giving away money to fund great ideas and iSanctuary is in the running to win $250,000 to help survivors of trafficking right here in Orange County.  But they need our votes – our DAILY votes now through December 31st!
You can vote twice a day, so set a daily reminder now through 12/31:
1. Text 104818 to 73774 (standard texting rates apply)
2. Vote on the Pepsi Refresh Website <– click link!
AND, if you click HERE you can get info on how to sign up for daily email reminders and if iSanctuary wins the Pepsi Refresh Project, you will be entered into a raffle to win an iPad! Click "iPad contest" on this home page!

iSanctuary also has an online boutique with handmade (very, very cute) items that were made by survivors of human trafficking which can be found at www.shopsanctuary.org.   The money raised goes towards supporting the fight agaist trafficking.
Just check out these cute bracelets – all of which are between $5 – $18.  Bookmark this page when you want to give a great gift that benefits a great cause.
Have a great holiday weekend everyone!  I am sure you are crazy busy getting those last minute holiday errands done. In the holiday frenzy remember to take a minute to stop and be thankful.  See you back on Monday for a ROCKIN' New Year's giveaway! xoxo Jen