This post on Minted 's personalized photo calendar 2014 designs, new year's cards and personalized valentines was actually supposed to be published yesterday. However, it had to be postponed a day for reasons I blame completely on Minted. You see, I thought it would be a good idea to do a couple mock up pages in a Minted photo calendar with my family photos to show as an example for this post.
So, there I go, playing around with the design and photos to personalize the first few months of a photo calendar, and what do you think happens?
Minted makes designing a personalized photo calendar so easy and it was turning out so stinkin' cute to see my family in the photos I couldn't stop.
I had to keep going month by month until it was finished. My blogging time turned into calendar designing, so therefore this post was pushed back a day. But so worth it. So, so worth it.
My oldest daughter helped me and we had so much fun going through our favorite photos from the past year.
I ordered mine yesterday and can't wait to get it hanging in my office.
Personalized Photo Calendar 2014
The Minted photo calendars come in two sizes, standard and grand, and you can personalize with your own photos, different layouts, and edit the days of the months to add in special birthdays or events.
I love all the months I did, but two months in particular are my favorites. This photo of Emma is on her birthday month of June was taken during our favorite trip of 2013 to Bacara last summer.
My second favorite is December.
Each year I take a photo of my girls walking down the hall on Christmas morning to see if Santa came. For this month, I put in their photos from the last four years. Ages 1.5 and 4.5 to now ages 4.5 and 7.5. Where are the years going?!
If you happen to get a late start in designing, you can pick your "start" month too. Click here to visit and click around – you will love these photo calendars.
Minted New Years Cards
With Thanksgiving falling so late this year, it seemed like December sort of snuck up on everyone.  If you are one of the many people who just didn't have the time to get out a holiday card, how about sending a New Year photo card instead?
I happen to love this idea because I get a little gloomy after Christmas when the holiday cards stop. You will for sure brighten someone's boring January mail day with a Minted new year photo card.
Again, you can again personalize with photos, text, backer options in one of their fun New Year photo card designs.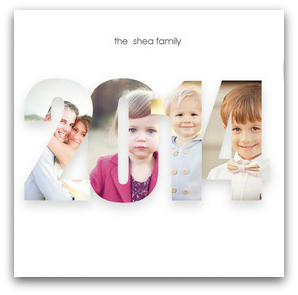 Minted Personalized Valentines
Valentine's Day is one of my favorite holidays. What used to be a holiday celebrated solely with my sweetie, is now a family event with a special breakfast and family date night. I love making my kids' classroom valentines with them and thinking of special ways to make them more personal.
To help people celebrate the holiday of love, Minted has a lovely assortment of personalized valentines and personalized kids valentine cards like these you can add your child's photo and name to…
….now those are SWEET!
[Disclosure: Minted is a Tiny Oranges sponsor and I am also an affiliate. I love, love, love their company and products and all opinions are 100% my own genuine ones.]