Disclosure: Free photo and frame sent to me for review. I only write about things I love. And I love Pictli.

Recently I was introduced to Pictli, an online photo framing gift company, where you can pick a favorite photo, add it to one of their beautiful frames, and then have it sent with a personal note directly to your recipient.
Awesomeness.  If you want to try it out for yourself (you do) use Pictli coupon code JS1506 and get 20% off now through the end of June.
With Father's Day coming up, it was the perfect opportunity to frame a photo to give to my husband for his office.

Here's how it works.
First you upload your photo which you can do easily from Facebook, Instagram or your drag and drop a photo from your computer.  Then you preview your photo in the frame of your choice.  I love this because you can see what your photo would actually look like in the frame.
I chose this recent picture of my husband with our girls before the Father/Daughter Dance at our school. It makes my heart swoon.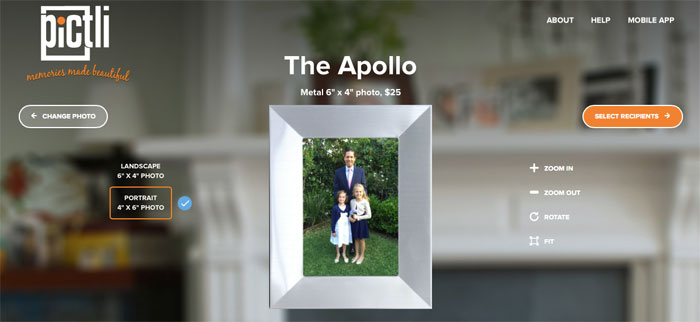 Then you write your personalized note to the recipient, enter your info and viola! Done! You can have it shipped to you OR directly to recipient! Just think how much the grandparents would love to receive this in the mail!
When my Pictli gift arrived, it was in a cute box, and inside was wrapped darling, with the personalized note attached.
He's going to love it.
🙂