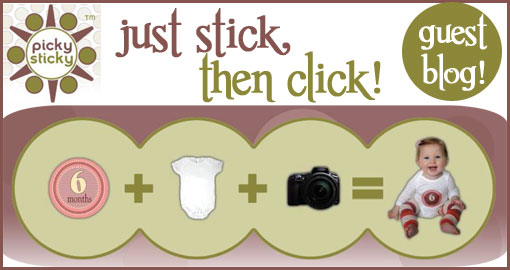 This great find was sent to me by a fellow mommy blogger named Julie.  I think this is the CUTEST idea!  Here is what she writes..
"You know those nostalgic moments when you go in the basement of your parent's house, dust off the old photo albums, flip through the 2×4″ sepia pictures, and smile at each one, trying to remember where you were and when it was? Our children realize how lucky they are to have digital cameras today. I can take six of the same photographs of my daughter. She smiles in half and of the half, her eyes were open in only one. So that's the one I print! The one in my old photo album? The only one my mother took: Not smiling, eyes closed. And I don't have a clue how old I was. I guess 6 months. My mother tells me I was more like 1. Ugh…
So imagine my delight when I found Picky Sticky: round stickers, 4″ in diameter, that announce ages (0-12 months; 1-12 years), celebratory months, and even count progress of pregnancy by the week. Picky Sticky comes in girl-friendly and boy-friendly.
How it works: Step 1) Get baby;   Step 2) Put baby in onesie (white works best);   Step 3) Put said sticker on said onesie;   Step 4) Take picture (or 6, if you're like me). VOILA!
This is my daughter, Hailey, sporting Month 3's sticker.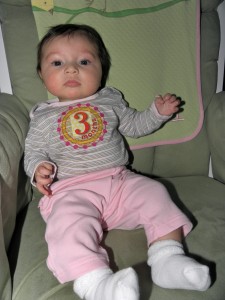 I actually did get some of her smiling, but I think she looks like a little doll here (Ahh, she melts me).
Pros: Different colors; Different Styles; Easy to use; No sewing, tape (or anything else crazy!) required; Comes on easily/comes off easily
Cons: What cons? (No, I don't work for them…!)
So for less than $20.00, you can record your child's milestones through a photograph (or yours if you're pregnant!). What better way to truly capture a moment. LOVE THESE."
Visit Julie's blog, Farber Family Adventures, for more product reviews, giveaways, and to see her Hailey's version of the old dusty sepia colored photo album!!