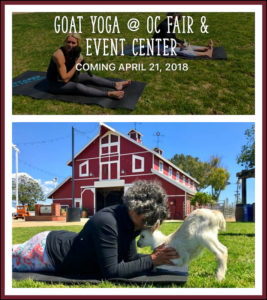 I got a press release this week in my email box with the title, "Goat Yoga Experience at Centennial Farm," and I thought, oh the poor person who sent it out with an obvious typo. GOAT YOGA?!  I started to giggle and opened it to come to find out that goat yoga is a THING. Like a REAL THING.
Did you guys know this??
And since it is a real thing, and brought me a huge giggle and smile, I wanted to share the info with you.
Two goat yoga sessions offered by Spectrum Yoga in Costa Mesa will be held at Centennial Farm in front of the barn on April 21st, 2018 where adults and (human) kids 9+ accompanied by an adult can experience a traditional yoga class combined with pygmy goats that skip around and climb on class participants.
Again, this is for real.
The classes are limited to 50 participants, $40pp. Tickets are available here.
Free Farm Fun Day to Watch
On this day families can come out for FREE to watch the yoga, take photos and play with the goats, and take a tour of the Centennial Farm.
For more information visit www.ocfair.com.