This post is brought to you by Galileo Innovation summer camps for kids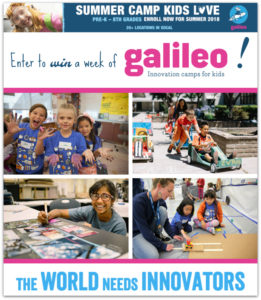 This time of year something happens in the psyches of moms everywhere.
Once Spring Break is over we know what is coming. We brace ourselves and hold on to our hats and glasses because it is one wild ride to the end of the school year. I am convinced time actually speeds up.
For real.
Given summer will be here in the blink of an eye, the ubiquitous planning and strategizing to get the kids registered for summer camps goes into full effect about now. Are you there yet?
Now I am sure you have your same 'ole favorite tried-and-true camps you do every summer, which is great. But this summer I urge you to consider sending your kids to a totally NEW, totally INSPIRING, totally EDUCATIONAL (but not boring educational) summer camp. It's a camp that will inspire and expand their creativity and minds, Galileo Innovation Camps, where kids' wildest ideas come to life.
For real.
Galileo Innovation Summer Camps are designed for Pre-K through 8th grade kids with the goal to create and nourish a love for innovation. At Galileo, they believe the world needs innovators, and in the imaginations of children is where ideas begin.
You in? Yes?
Then you don't want to miss out on this opportunity…Galileo is
🎉 GIVING AWAY ONE FREE WEEK OF CAMP🎉
in Orange County or Carlsbad to one of my readers!!! Details below. Keep on readin'…
Galileo Innovation Camps
Galileo Camps can be found throughout Los Angeles, Orange County, San Diego and the Bay Area (for any of our readers up north). With over 20+ locations in SoCal, you are sure to find a location near you. For my friends with tiny and tween oranges, the Galileo Camps in Orange County and close-by in Carlsbad can be found in:
Costa Mesa @ Mariners Christian School
Irvine @ Northwood Elementary School
Ladera Ranch @ Oso Grande Elementary School
Newport Beach @ Andersen Elementary School
Carlsbad @ Aviara Oaks Elementary School
All camps officially run 9am – 3p, but extended summer camp care is offered from 8a – 9a and from 3p-6p for those who need it. I know finding quality Orange County summer camps with extended care can be a challenge. Look no further!
What is Galileo All About?
Powerful things happen at Galileo that don't happen at other camps.
In the midst of having crazy fun, the kids are also learning. Through hands-on exploration and a revolutionary innovation process inspired by Stanford, kids learn how to dream, create, invent, and design giving them self-confidence and an internal boldness to try new things.
They also learn how to fail. Not in a dispiriting way. Rather, they are taught to embrace their mistakes, use them to learn and improve, try again, as a result build the skills it takes to be a risk-taker and problem solver.  You know, the things that take grit! Here's a peek at what you could expect to find at Galileo this summer…
2018 Galileo Summer Camps Orange County
Camp Galileo (Pre-K – 5th Grade)
For younger innovators ages pre-K through 5th grade, Camp Galileo offers unique immersion experiences in art, science and the outdoors through different weekly themes.
The 2018 summer themes include:
The Incredible Human Body: The Art and Science of Being Human
Space Explorers: Cosmic Art and Astronaut Science
Materials Challenge: Art and Engineering with a Single Supply
Road Trip Adventure: Art and Engineering Along Route 66
Galileo Summer Quest (5th – 8th Grade)
For older innovators entering 5th – 8th grade, Galileo Summer Quest gives campers the opportunity to dive deeper into specific topics by choosing different "majors" for the week. Galileo Summer Quest is offered at the Costa Mesa and Irvine Locations.
Costa Mesa Summer Quest themes include:
Chefology: Supreme Sweets or Breakfast Club
Mystery Room: The Great Escape
Robot Pet
Go-Kart Builders
YouTube Producers
Irvine Summer Quest themes include:
Mystery Room: The Great Escape
Robot Pet
Go-Kart Builders
YouTube Producers
3-D Modeling & Printing
Catapult Builders
Register Now!
Registration is open now! But don't wait. Spaces at each camp are limited, so if you see a camp that would be perfect for your kiddo, get them signed up today.
Have a friend that would like to go with your child? Make sure to look for any special referral bonuses at your location for bringing along a friend (or two, or three!) And, if you refer a new family, both you and your friend will receive a referral discount of up to $100 (varies by location, check website for details)!!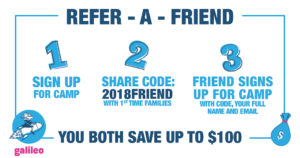 Camp For All! 
Galileo has a robust financial assistance program, and last year, they awarded over 4800 weeks of specially priced camp. For anyone seeking financial assistance to give their child the opportunity to attend a Galileo camp, visit www.galileo-camps.com to learn more. 
Enter to Win a Free Week!
Okay mamas, now we get down to the extra fun part! Galileo is giving away one free week of camp at one of the 4 Orange County locations OR the Carlsbad location. Good luck!