This is a sponsored post written by me on behalf of Whole Foods Market.
Several years ago my father was diagnosed with Stage I melanoma and since that time I have been passionate about spreading the word about regular skin checks and sun protection.
We are in the sun year round in sunny SoCal, so we need to be especially careful.
Whole Foods Market Sun Care Sale
Save big this Memorial Day Weekend at Whole Foods Markets nationwide where you can save 30% on all sun care and aloe products. The four day sale will run Friday, 5/23/14 through Monday,  5/26/14.
Such a great time to stock up for summer!
Sun Safety Tips
What is the right SPF number?
The American Academy of Dermatology recommends that everyone wear a  water resistant, broad-spectrum sunscreen with an SPF of at least 30.  Broad-spectrum means the sunscreen protects against both UVA and UVA rays. It's important to make sure your sun block says "broad-spectrum" on the label.
How frequently should I apply sunscreen?
Re-apply every two hours, or after swimming or sweating.
What are physical sunscreens?
Chemical sunscreens protect skin by absorbing the sun's rays by seeping deep within the skin.
Physical sunscreens utilize zinc oxide and titanium dioxide as active ingredients to sit on top of the skin and physically block the sun's rays.  They work immediately and do not seep into the skin. Zinc oxide is protective against UVA and UVB rays.
What are nano-particles?
Recently nano-sized physical sunscreens have been developed which apply smoothly on the skin. The use of these ingredients is relatively new and long-term effects are unknown.
What else can I do to protect myself? 
In addition to applying sunscreen, wearing protective clothing like long sleeves and hats are helpful, as is seeking out shade or staying out of the sun during the hours of 10am – 2pm when the sun is the strongest.
Whole Foods Market Premium Body Care
If you are concerned about chemicals in sunscreens, Whole Foods Markets Premium Body Care products prohibit chemical sunscreen active ingredients and are carefully screened for particle size.
So even though these non-nano, physical sunscreens may apply with a slightly white film, you will be assured these products do not contain chemical sunscreens or non-particles.
Look for the Premium Body Care label on products that have been prescreened by Whole Foods Market.
My Whole Foods Market Sun Care Finds
Recently I went to stock up on my own family's sunscreen for summer at the Whole Foods Market in Newport Beach. I wanted to share some of my finds and faves with you.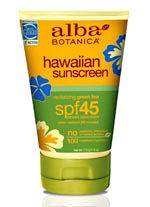 Alba Botanica Hawaiian Sunscreen SPF 45 Broad Spectrum
This sunscreen is made from 100% vegetarian ingredients and uses no parabens, phthalates or harmful sulfates.
It is broad spectrum SPF 45 and water resistant for up to 80 minutes.  I like this one for the times when my kids will be swimming a lot due to the water resistance factor.
The scent is super yummy, reminds me of herbs, has a white film, but rubs in nicely.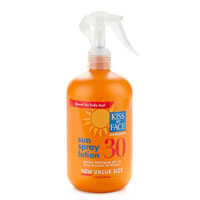 Kiss My Face Sun Spray Lotion SPF 30  
My kids REALLY prefer a spray sunscreen so it is nice to have a natural spray option.
I like the fact that this one is easy to apply (it sprays on like a lotion) and is easy to rub in. It is free of parabens and nano-particles, is broad-spectrum and water resistant up to 40 minutes.
This one is great for the times when you need to reapply at the beach to make sure those sand castle building shoulders are protected.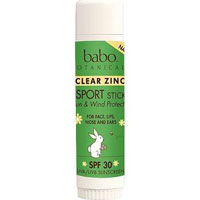 Babo Botanicals Clear Zinc Sport Stick SPF 30
Nothing is more important to me than making sure my little one's faces are protected from sunburn and this is the first zinc stick I have found that goes on CLEAR. It really does! In addition, it has a pleasant smell.
Although it says Sport Stick, it doesn't say "water resistant", so this is more of a stick I would use at the park or for outdoor activities, not necessarily extended periods of swimming.
 It is also broad-spectrum and chemical free.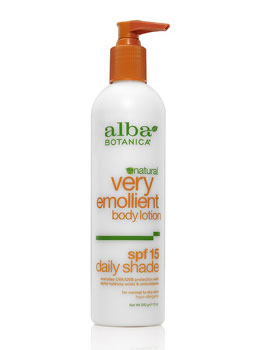 Alba Botanica SPF 15 Daily Shade
I like this product for the days when I will likely get incidental sun exposure, because as we know, the AAD recommends an SPF of at least 30 for protection.
I use this product like a lotion on the days when I will not be out in the sun for long periods of time, but will be in and out of the sun during the day for short periods, like at school pick up, etc.
Do you have any favorite natural sunscreens to share?
Visit www.wholefoodsmarket.com/stores/list to find a Whole Foods Market near you and follow @WFMOrangeCounty to stay up to date on the latest deals and events on Twitter and here are the local Whole Foods Market Facebook pages by location:
Tustin: www.facebook.com/WFMjamboree
Newport: www.facebook.com/WholeFoodsMarketNewportBeach
Laguna Niguel: www.facebook.com/WholeFoodsMarketLagunaNiguel
Laguna Beach: www.facebook.com/WFMlagunabeach
Huntington Beach: www.facebook.com/WFMHuntingtonBeach
Happy Memorial Day Weekend Everyone!