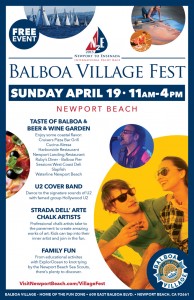 Balboa Village Fest and Taste of Balboa

 
The 68th Annual Newport to Ensenada International Yacht Race at the Balboa Village Fest is coming up this Sunday, April 19th from 11 am to 4 pm at Balboa Village on the Balboa Peninsula in Newport Beach and is sure to be a super fun event for the family.
One of the highlights of this year's Fest is the second annual Taste of Balboa, which offers fun for the whole family, including signature dishes for purchase from various local restaurants and live music performed by famous U2 cover band, Hollywood U2.
Event entry is free, with a nominal fee for food and drink tickets – ranging from $1 -$10.
Kids can enjoy ExplorOcean's engaging hands-on activities that celebrate and highlight the ocean from multiple perspectives for children of all ages.
Other activities include large-scale professional chalk works by famed chalk artists, tours of several boats that will be competing in this year's Newport to Ensenada yacht race, and a formal ceremony unveiling a commissioned Newport to Ensenada painting at 1pm.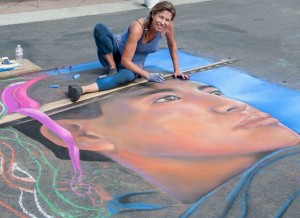 Balboa Village Fest and the Taste of Balboa will be located in the heart of Balboa Village – home of the Fun Zone – at the corner of Balboa Blvd. and Palm St. on the Balboa Peninsula in Newport Beach.
For more information, call (949) 644-1023 or visit www.balboavillage.com. This year's Newport to Ensenada International Yacht Race sponsors include Stella Artois and Hornblower Yachts.