Disclosure: This post is Sponsored by our friends at the National Pork Board to inspire readers with our favorite pork chop recipes!
Last month Susanne had us over for dinner and made these mouth-watering Grilled Pork Chops with Mango Guacamole.
The chops were so tasty we were inspired to host a family BBQ for friends to try out another one of her delicious pork recipes, Grilled Pork Chops with Chimichurri Sauce.
Crash Your Grill with Pork!
It's common to get into a grilling and flavor rut, isn't it? I know personally, we have our standard go-to grilling recipes that are recycled over and over again. Boring.
Grilling pork chops are a great way to mix up your menu and delight guests with unexpected, delectable flavors.  
This season, crash your grill with pork, and watch the rave reviews that result!
Plan a BBQ Together with a Friend
We wanted to surprise our guests with a delicious pork recipe at an outdoor BBQ to kick off the summer season.
Susanne came up with the amazing menu,  grilled pork chops with chimichurri sauce over a bed of grilled asparagus and tomato bread pudding, we set the date and our Grill Crashers Party was in motion.
From menu planning to shopping to designing the decor, planning a dinner party with a friend is so much fun. Not only does it split up the work load, but being able to share ideas and to-do lists takes off the burden and allows you to enjoy the process from start to finish.
Step 1: Time to Shop 



Ralphs was our supermarket of choice for shopping because we knew they would carry everything needed for our party. We love their selection of fresh herbs, all the Simple Truth product options, amazing wine selection, fresh flowers, and more.
The first stop on our shopping excursion was the butcher to check out their selection of boneless pork chops. When serving smaller groups, look for pre-cut pork chop packages, but when planning for a large group, you can ask the butcher to cut them for you.
Our Ralphs butcher was so accommodating. When the butcher cuts the chops you can customize the thickness (our preference – 3/4″ thick).
For those that opt for natural meat, Ralphs natural and organic line, Simple Truth, carries natural pork which is humanely raised, fed an all vegetarian diet, with no antibiotics, added hormones or preservatives.

Step 2: Party Prep!
I got to Susanne's house early to help with the cooking and set-up. This is another benefit of throwing a dinner party with a friend – you can sip on a little wine and chat while getting ready and it doesn't feel like work!   
She handled the food prep and I worked on setting the table.
Flowers are one of the most inexpensive ways you can add a pop of color to your party and make your dinner table feel special.
I love using mason jars and milk bottles as vases for outdoor BBQ's. To me, this inspires a natural, rustic feel.
For a backyard party with all the natural elements, you really don't need much more for decor. Opt for some fresh flowers, candles, and cafe lights and you add instant ambiance, without breaking the bank.
Now it's time to talk about the star of the party – the pork chops! Here Susanne will give you the how-to on how to make this delicious pork chop recipe for your next party….
Grilled Pork Chops with Chimichurri Sauce,
Tomato Bread Pudding & Asparagus
[Click here to download and print the recipe]
serves 8 people
Chimichurri is a super fresh, herby sauce.  It's little salty and a touch spicy in the best way possible giving your pork chop a bright, summery flavor.  Warning: you may want more than just one!  Paired with asparagus (in its peak season) and the delicious and sort of indulgent savory bread pudding.  This plate is sure to please the party people.
Grilled Pork Chops with Chimichurri Sauce
12 pork chops, boneless, 3/4 inch thick
garlic powder
onion powder
salt + pepper
Pat the pork chops dry and sprinkle liberally with onion powder, garlic powder, salt and pepper. Once done, set aside until it is time to grill.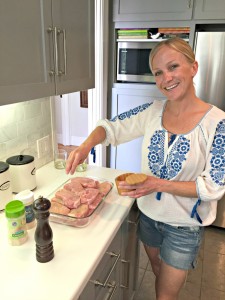 Chimichurri Sauce

 
1 cup flat leaf parsley, packed, stems removed, chopped
2-3 garlic cloves, minced
2 Tbsp fresh marjoram, chopped (or fresh oregano)
2 Tbsp red wine vinegar
1 teaspoon salt (maldon or kosher)
1/4 teaspoon fresh ground black pepper
1/8 teaspoon red pepper flakes
1/2 cup Extra Virgin Olive Oil
Stir together ingredients, serve at room temperature.  I like to make chimichurri sauce no more than a few hours ahead as the freshness of this sauce is key.  (If you need to make ahead, no more than 24 hours.)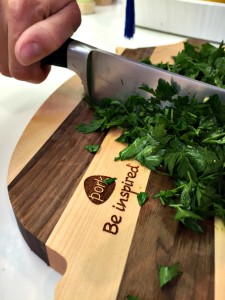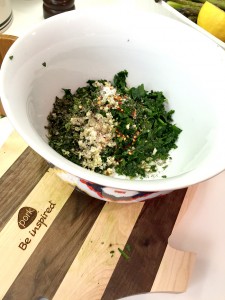 Grilled Asparagus
2 bunches, asparagus, tough ends snapped off and lightly shave the ends
1/2 lemon
drizzle of Extra Virgin Olive Oil
salt + pepper
When you are finished grilling your pork chops, quickly put the asparagus over medium heat for no more than a few minutes, taking care to keep a little crunch to them.   Then quickly add the lemon to the grill for a minute to sweeten the juice a little and squeeze over the asparagus.
Tomato Bread Pudding Recipe

 
Serves 6-8
12 cups (1 inch) cubes country style bread (can use a flavored bread, like garlic or rosemary, day old bread is best), crusts discarded
1 1/2 stick unsalted butter, melted
2 cloves crushed garlic
1 28 oz can crushed tomatoes
1/4 cup firmly packed light brown sugar
4 sprigs fresh thyme, leaves removed from the stems
1 tbsp tomato paste
3/4 tsp salt
1/2 tsp tabasco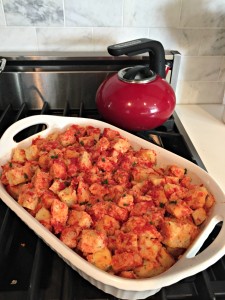 Put oven rack in middle position and preheat oven to 400.
Toss bread cubes with butter in a 13×9 inch baking dish until coated.
Place tomatoes in a saucepan along with brown sugar, garlic, thyme, tomato paste, salt and hot sauce.
Bring mixture just to a simmer, stirring to break up the tomato paste.  Pour mixture over bread, gently stirring to combine.  Bake uncovered, until edges are beginning to caramelize 35-40mins.  Watch carefully to make sure it doesn't burn.
How to Grill Perfect Pork Chops
Because our men LOVE to BBQ we put them in charge of the grilling – careful not to share with our guests what was on the grill.  They probably assumed steak or chicken or burgers. But little did they know we had something special planned for them!
Here is Susanne's husband Mike at the 'cue.
You will want to grill your pork chops over medium heat, turning once, for 4-6 mins per side until they reach an internal temperature of 145-160 degrees F followed by a 3 minute rest.
We pulled them off the grill at 145 degrees, and then let them sit under foil to rest.
A digital meat thermometer is a necessity to ensure proper cooking. Click here for the full guide of pork cooking times and temps.
The Grill Crashers Reveal!
In the meantime, our party guests were hanging out, keeping Baby Shea entertained with no idea we were about to crash the party with pork!
When we shared the menu they were surprised, and also really excited to try Susanne's recipe.
Doesn't Teresa look happy at the thought of having pork chops?

The pork chops were juicy and delicious and the herby sauce made it so flavorful.  And, please do yourself and your party guests a favor and try out Susanne's tomato bread pudding recipe.  The dish was passed around and around for 2nds and 3rds.
Perhaps the most important feedback however, was from these little girls who can tend to have discriminating tastes when it comes to food (discriminating tastes = picky eaters). However the girls all loved the pork which we cubed for easier eating.
Big thumbs up.
Be Inspired to Throw Your Own Grill Crashers Party!
Our party was a huge hit! Everyone had the best time and the pork was the talk of the night.
Are you feeling inspired to throw your own summer BBQ and crash the grill with pork? We want you to be able to have the same experience too!
Come back here tomorrow for a big GIVEAWAY of a Grill Crashers prize back generously offered by the National Pork Board so you can plan your own Grill Crashers Party and crash your grill with pork.
Do you love grilling pork? What's your favorite recipe? Please do share in the comments below!