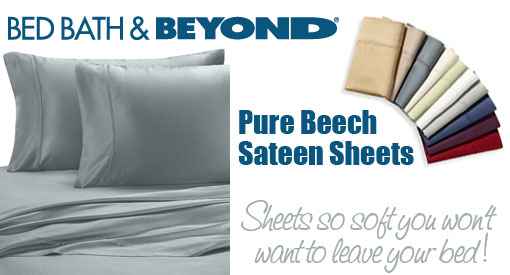 Up until recently, I have never found bed sheets that I absolutely LOVE. In fact, I have spent quite a bit of money on high thread count sheets that really weren't that great.  When we got our new dreamy iComfort bed, I needed to buy new sheets since we went from a Cal King to a King and that is when I discovered the best, softest, coziest bed sheets EVER!
It happened by accident actually.  I bought a set of the Bed Bath and Beyond Pure Beech Sateen Sheets for our guest bed first. After I washed them and felt how amazingly soft they were, I went straight back to get a King set for us.
They didn't carry King size in the store, so I had to order online. I have a  Bed Bath and Beyond tip to share! You can bring in your 20% off coupon that you probably get in the mail into the store and can have an associate order it online for you and apply the 20% off coupon, which is what I did.
For such luxurious sheets, they are not that expensive, ranging from $79.99 – $99.99 per set. With the 20% off, it's not a bad price for the best sheets you will ever sleep on.
They are flipping amazing. Soooooo soft and cozy. They just sort of drape over you like silk. I have never felt sheets so soft in my entire life. I wash and dry them on "delicate," and I have only had them a short time so I can't tell you how they hold up, but from first impression, so far so good.
Now, time for a nap…have a fabulous weekend!