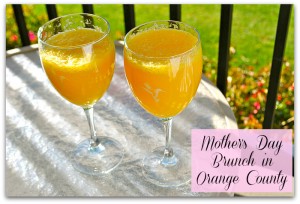 Today I'd like to talk about where to go for the best Mother's Day brunches in Orange County.  With our special day coming up on Sunday, May 10th, it's time to start dropping hints and get those reservations made. So bookmark this post, send your husband the link, and let your family know that you're ready to celebrate with mimosas, omelet bars, and fresh fruit!
Best Mother's Day Brunches in Orange County 
And speaking of bookmarking a link, check out my Mother's Day blog from last year – all about what mamas really want for Mom's Day!
Here are some of my favorite brunch places:
El Torito Dana Point – This is a delicious, causal buffet in a kid-friendly environment, and sports a beautiful view of the Dana Point Harbor.
Reservations – (949) 496-6311
Laguna Beach Driftwood Kitchen – You will feel like you are eating on.the.beach here – the views here are incredible. And the food is amazing.  This is one of my favorite spots.
Reservations – (949) 715-7700
Rusty Pelican – I actually had my bridesmaids' luncheon here many moons ago, and have always come back for special occasions.  This restaurant sits on the Newport Harbor (right off of PCH), and is so beautiful and relaxing. Love it.
Reservations – (949) 642-3431
Salt Creek Grille (Dana Point) – This is a great spot to bring the family – yummy food, relaxed dining room, and right off of PCH (on the east side).
Reservations – (949) 661-7799
Tustin Ranch Golf Club – I'm a little biased because this is where I had my wedding reception (again, many moons ago!), but we love the brunch here – absolutely delicious with a gorgeous golf course view.
Reservations – (714) 734-2111
Here are some places I've heard wonderful things about:
Back Bay Bistro (at Newport Dunes) – People tell me that their waterfront patio is beautiful, and the food is wonderful. Check and check!
Reservations – (949) 729-1144
Brio Tuscan Grille (at the Irvine Spectrum) – I've heard this is a great place to brunch and relax – looking forward to trying it soon.
Reservations – (949) 341-0380
Duke's Huntington Beach (right on Huntington Beach) – Anything right on the beach gets an "A" in my book.  Plus, I hear the food is amazing.
Reservations – (714) 374-6446
Paul Martin's American Grill (at the Irvine Spectrum)- My friends tell me this is a great casual place with good food and reasonable brunch prices.  Sounds good to me.
Reservations – (949) 453-1144
Splashes at Surf & Sand Resort (in Laguna Beach)- I've heard this is just a fabulous restaurant with an amazing ocean view and delicious food.  Can't wait to try it!
Reservations – (877) 741-5908
Here are some of the top picks from web searches:
Still looking for some inspiration? Take a peek at these websites that have compiled some great brunch spots in Orange County.
– From Gayot:  2015 Top 10 Mother's Day Brunch Restaurants in Orange County (CA) Area
– From www.orangecounty.net:  Mother's Day Weekend – Things to Do/Brunch
– From Opentable – Mother's Day Brunch, Lunch and Dinner Specials
– From localemagazine.com – Orange County Brunch Guide
– From wherela.com –  Find The Best Places To Brunch In Orange County
Don't forget to call to make reservations asap…and also ask if there is a set menu or special available brunch times (since it is a holiday).  I wish you all a fabulous early Mother's Day, and hope you get to enjoy your families and do what you love!
Please comment below with your choice for the best brunch places in OC!