This past Sunday I got invited to a mommy blogger event to experience the phenomenal Pacific Waters Spa at the Hyatt Regency Resort & Spa in Huntington Beach.  One of my favorite parts of doing my blog is getting to experience fun, local events so I can share the information with you firsthand.  And, I have to say, it doesn't get much better than a spa invitation!  I know, it's a tough job, but someone has to do it!
The past month I had 2 trips to the E.R. with both my girls on separate occasions, one of which landed us in CHOC hospital overnight.   I have a whole blog on that coming later this week.   My kids are both fine, but needless to say, it has been a really stressful month.   To say I needed a few hours to relax and unwind was the understatement of the year.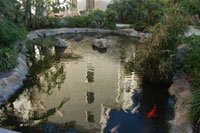 The minute you walk onto the property and take a whiff of the clean ocean air, you feel like you are on vacation. I exhaled for the first time all week.  The spa is nestled in a charming courtyard beyond a little koi pond bridge.  From the outside you are unable to tell just how magnificent it really is, but then you step inside and enter into a heavenly retreat.
We were first shown into the ladies lounge and got our lockers.   The changing area is great – lots of lockers and big ottomans and lots of space.   We changed into our spa robes (loooovveeeee the spa robe!) and  were shown two different recipes for body scrubs and foot scrubs you can do at home!  I will do another post on these, it would be such a fun thing to do together with girlfriends.  And, with all natural ingredients.
Then we hung out in the relaxation room with chaises and chairs with cozy blankets next to a warm fire and waited for our treatments. There are so many places to hang out and relax there, including two outdoor courtyards with nice patio furniture and even an outdoor fire pit.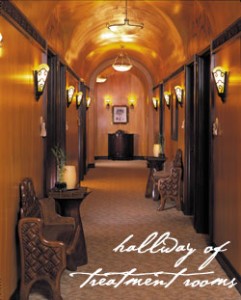 Then we were shown into the hallway of treatment rooms.  So gorgeous! A huge arched ceiling with beautiful lighting and just entirely tranquil.   We were given samplers of their facials and massages.  The minute I relaxed on that heated table I think I almost melted into it with relaxation!   My esthetician, Gloria (or as she told me to call her) "Glo" was fabulous and really made my skin "glow!" She told me to eat Coho salmon from Trader Joe's to help with my "35-year-old wrinkled from parenting dehydrated forehead"!  I think I might have to eat salmon every day all day to help, but I did appreciate the advice!  The women who did my massage was equally fabulous.  I didn't want it to end!
We were then taken into the salon for a little mini manicure.   The exfoliating scrub and moisturizer she used was just what the doctor ordered for my poor hands that are so dry from over washing and antibacterializing this winter.
Afterwards we got a sample of the DELICIOUS spa menu!   Delightful sandwiches, salmon (woo hoo – I am on my way to better skin already!), grilled veggies, salads and fruits.
I just kept thinking about how much FUN it would be to meet a girlfriend (or two or three or four) there and make a day out of it.   The amazing treatments aside, the facilities ALONE are incredible….a beautiful indoor jacquzzi, steam room, outdoor spa grotto, lunching in the courtyard, etc.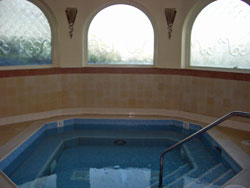 Are you hooked yet?  Are you ready to call your girlfriends and plan a spa day?
Here's a way to save 20% on a 60-minute treatment!
The Pacific Waters Spa is having a fun little contest for bloggers.   If you, my wonderful Tiny Oranges readers, become a Fan of the Pacific Waters Spa on Facebook (click HERE) or follow @HyattSpaHB on Twitter (click HERE) and, this is the important part, write on the wall or tweet "I became a Fan after reading Tiny Oranges!"  the blogger that gets the most new fans wins a spa day!!!!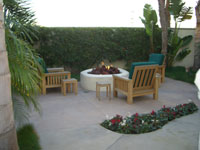 It is almost too much for me to fathom, an entire day.  A mom can dream, can't she?
They also have a fabulous Membership program, where for 3 or 6 months, you get three 60-minute treatments and unlimited use of the spa facilities and pool anytime!  Valentine's Day is coming up mamas…forward this to your hubbys! Click HERE to contact the spa for more info.  And click HERE for the brochure!
Okay, just typing this  makes me want to go back.  I am seriously considering a membership.  Our job as moms is hard – we deserve some kid-free me-time periodically. Good for the psyche and the soul.