Hello mamas!  Today's post is written by my fabulous sales director, Susanne, and her LOVE for the Tray Vous snack tray for her Bugaboo stroller. If you are a Bugaboo mama yourself, you can enter below to have a chance to win one! You can also find Tray Vous on the floor at Spoiled Beginnings in Costa Mesa if you want to see it for yourself in person.
Here is what Susanne wrote…
"When I was pregnant with my first daughter, I had to have the Bugaboo.
Loved the modern design mixed with the old fashioned sensibility of the bassinet for the infant which turned into a comfortable seat to hold a toddler up to 37.5 pounds!  They thought of everything with this stroller- the car seat adapter allowed it to become a total travel system.  It even had a rain cover!  The one thing they didn't think of…a snack tray!  Have you ever met a toddler who doesn't snack?!?
Enter:  Tray Vous!  The brain child of mommy entrepreneur, Lauren Moore.  It's a simple snack tray that attaches to the black foam covered bar "carry handle" on the front of the Bugaboo Frog or Cameleon stroller.  It makes the Bugaboo so much more relevant to my toddler's life!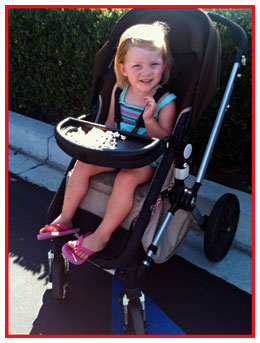 We just used it for the first time at the OC Fair this summer and it was SO great because my 2.5 yr old daughter, Lyla, was excited to stay in the stroller!  She loved eating her popcorn off of it!
(Literally, in past years at the Fair I had just poured a pile of popcorn on my older daughter's lap=messy, greasy clothes & half ended up on the ground)
Ridiculous that I had been using such a high-end stroller for over 4 years without something as simple a snack tray!
Not only is it great for snacks, it's spacious enough for toddlers to use it for coloring, reading books or playing with toys.
The smart design includes a cup holder and raised edges to avoid snacks or toys from sliding off with each turn of the stroller.
As for assembly, it was simple! I didn't have to wait for my husband to get home to help me put it together (which happens a lot in my household).
In Lauren's own words "Tray Vous began as a simple idea to satisfy my own needs.  When my daughter turned 10 months old, she absolutely would not go in her stroller anymore.  I knew what she needed was a snack tray.  Refusing to accept that my $1,000 stroller had become obsolete after only 10 months of use, I decided to take matters into my own hands and design a tray myself.  With the help of a mechanical engineer and after many, many, many, many rounds of designing and prototyping…I had my one and only tray."
And, since it's a product made by a mommy, it is made of high quality, durable materials, all free of lead, BPA, PVC and phthalates.
At $44.95, it's an excellent price for this high quality, extremely valuable product. I find myself wanting to stop Bugaboo mommies on the street to spread the word!
Thank you, Tray Vous!"
Hooray! It's a Tiny Giveaway!
One lucky winner will have the chance to win their own Tray Vous snack tray!  Please leave a separate comment for each entry option and your email address so I have a way to reach you. Your email address won't be published. Good luck!
1. Simply comment below! – 1 entry
2. [Like] Tray Vous on Facebook – 1 entry
3. [Like] Tiny Oranges on Facebook – 1 entry
4. Follow @TinyOrangesOC on Twitter – 1 entry
5. Subscribe to Tiny Oranges e-mails – 1 entry
Contest runs through Tuesday, 9/27/11 at 5pm PST.  Good luck!
[Disclosure: Tray Vous is a Tiny Oranges Sponsor. All opinions in this post are Susanne's honest ones! She loves her Tray Vous tray and knows you will too!]