[Links in this post are Amazon affiliate links]
My girlfriend raved about the children's book Wonder
 after reading it aloud with her girls, similar in ages to mine. She told me the book is so profound and so moving it should be required reading in school.
With a recommendation like that, I ran straight to Amazon to order it for my daughter and my 8-year-old fell in love with her first book. She likes to read but I had never witnessed her love a book like she loved this one. I thought it might be fun for her to write her own Wonder
 review for other kids.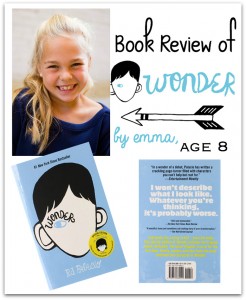 Hi my name is Emma! I am 8 years old, 9 in June and I am in third grade. I love to write but also read and do gymnastics. I read this book called Wonder
 by R.J. Palacio. It was so good I almost cried when it ended. I had never read a book I felt that way about.
Wonder Review by Emma, age 8
The book is about a 10 year old boy named August but his friends and family call him Auggie.
Auggie is very different from all of his friends. He is different because his face is deformed. Auggie has been homeschooled because he has had 27 surgeries but now his parents thought he was ready to go to school. When Auggie first went to school most of the children were mean to him because he looks different from them.
Auggie meets a girl named Summer at lunch on the first day of school.  They say their names are alike because August is in Summer. Summer made things different for him because she was a true friend.
The lesson in this book is you have to be nice to to people even if they look different because they are still a person.
I think all kids and even adults should read Wonder
 because it is just an amazing book!!!!!!!