My husband and I had the pleasure of seeing the Cirque du Soleil performance of Quidam last week in Long Beach and as I have come to expect from Cirque du Soleil, it was AMAZING!
The show has now moved to Ontario at the Citizens Business Bank Arena and will be there starting today, April 27th through May 1st.
Quidam had its world premiere in Montreal under the Big Top in 1996 and since that time has toured on five continents. Starting last December, Quidam has been touring through North America dazzling audiences with an international cast of incredible acrobats, musicians, singers and characters.
Quidam, meaning a nameless passer-by, or someone swallowed up by the crowd, follows young Zoe, ignored by her parents, into an imaginary world where she is encouraged by various characters to free her soul.
The first act opened with the "German Wheel," where a performer became a human spoke as he spun, turned and twisted within the wheel.
In every Cirque show I have been to, what I love the most is that, edge of your seat "can they do that without falling?!" feeling!  And with this first act, I was immediately on the edge of my seat and the show opened with a bang!
I loved all the different acts, but some of my favorite pieces are the aerial contortion because they are just so beautiful.
In the "Aerial Contortion with Silk" act,  the performer did a variety of moves suspended by only a piece of red silk.  Set to beautiful music, it was absolutely stunning to watch her move and strike gorgeous poses.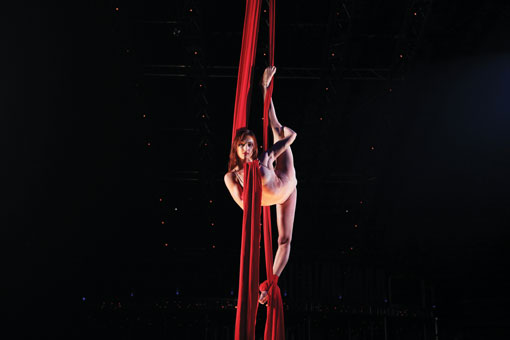 The show moved at an entertaining pace, intermixing thrilling "acts" with funny skits in between by the resident "clown," who often utilized audience members, which made it even more entertaining! And I have to say, the Quidam clown, was one of the best I have seen!
All in all what Cirque du Soleil does best, other than provide pure entertainment, is showcase the amazing agility of the human body. With poses like this you have no choice but to be in complete awe of what the human body is capable of!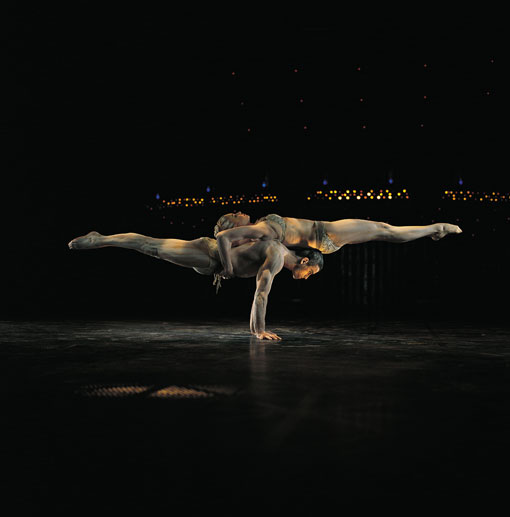 Quidam was magical, amazing, and pure entertainment.  Take your husband for a date night or bring your family if they are old enough to enjoy the art of live performance.  It is truly a show you will remember long after the event is over!
Visit this site for showtimes and tickets!
{Disclosure: I received two free media tickets to facilitate this review.  All photos and graphics & some descriptions of the acts provided by Cirque du Soleil.}