Our family was lucky enough to be invited to attend Bubblefest 2015 at Discovery Cube complimentary to share our experience with you. 
What an event!  I am excited to share about my family's experience at Discovery Cube OC's Bubblefest XIX – their amazing annual spring bubble extravaganza that features everything bubbles, now through April 12th, 2015.
Not only do bubbles bring total delight to kids of all ages, I found that my kiddos were actually learning about some of the science behind bubbles (which was an added bonus)!
There are lots of bubble events and activities to see and do. Here's a breakdown of what to expect…
The Mega Bubblefest Laser Show
This is a must-see show!  We found it to be the highlight of the event.  Get ready to be blown away with the "Bubble Scientist," Deni Yang, and his world-famous "Mega Bubble Show!"  We learned that Deni travels all over the world performing his bubble show, and actually holds two World Records in bubble-making.  Pretty cool.
My hubby and I were secretly wondering just how many different bubble tricks could really take place in 45 minutes – and let me tell you – A LOT.  It seemed like parents and kids alike were all oohing and ahhing over the bubbles, lasers, music, lights, and special effects – a professional show worthy of any family-friendly Las Vegas spectacle.  It featured exciting tricks like smoking bubbles, spinning bubbles, bouncing bubbles, human-sized bubbles, and more.
My favorite bubble sequence was when Deni crated an underwater bubble and laser masterpiece, where the audience really felt like they were floating and swimming in bubbles under the sea.
My kids loved the "snow" show where thousands of bubbles were released, making it appear as though we were playing in the snow.  You could hear squeals of pure delight and giggling from all areas in the theater.
Speaking of the theater, it is a newly renovated 10,000 sq. ft. gorgeous venue space that is a first-of-its-kind in the museum world, with the ability to transform from a world-class exhibit hall to a 500 seat theater.
Mega Bubblefest Laser Show Times:
9:30 a.m.*, 11:00 a.m., 12:30 p.m., 2:00 p.m., 3:30 p.m.
*Member show – Members, get your tickets for the 9:30 am show for just $4!
Check Out These Fun Outside Attractions
Bubble Spheres
You can climb inside a giant bubble sphere and see what happens if you try to walk, crawl, sit, or lay down. My little Nathan was in heaven!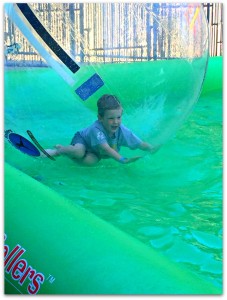 "Me" In A Bubble
'POP' a pose inside a giant bubble and have your photo taken – the kids thought this was hilarious.
Hexagon Bubbles
Kids can practice making different shaped bubbles with this interactive exhibit.
Bubble Wall
You can learn how heat and dryness affect bubbles and try to put your hand through a bubble wall without it popping.
CO2 Chamber
Kiddos can blow bubbles through a chamber of carbon dioxide and see if their bubble floats or sinks through the CO2. Keep an eye on the bubble to see if any changes occur!
Flow Patterns
You can learn about fluid dynamics and flow patterns by placing different types of objects in flowing water. Try turning the objects and using different angles to see how the flow patterns change.
Cube Jr. 5 & Under Bubble Zone
Bubble enthusiasts can create giant bubbles and learn colors and shapes in this 5 & under Bubble Zone. Perfect for littles.
Food Options
A variety of yummy food trucks will be available daily during Bubblefest for breakfast and lunch. Additionally, 5% of all food truck purchases will be donated to the Cube!
The Details:
Bubblefest is an additional charge of $5 for members and $7 for non-members on top of general admission to Discovery Cube OC.  General admission prices are as follows: adult ($16.95), senior ($12.95), and children 3-14 ($12.95).
Children 2 & under do not need a Bubblefest ticket, however they must sit on an adult's lap during the Mega Bubblefest Laser Show. Any child that requires their own seat must have a Bubblefest ticket.
Your Bubblefest admission fee will cover the Mega Bubblefest Laser Show, water spheres, and all outdoor activities.
Need Directions?
Discovery Cube Orange County
2500 N. Main Street
Santa Ana, CA  92705
For directions and parking information, click here.