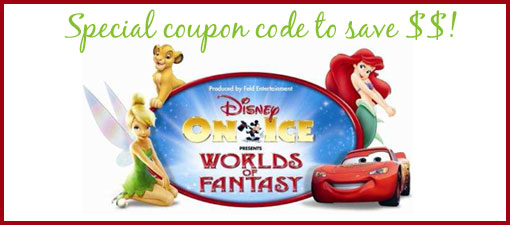 Disney on Ice presents Worlds of Fantasy returning to the Southland this Dec. 17th – Jan. 10th!  With special performances in LA, Anaheim, Ontario and Long Beach, this ice spectacular presents classic Disney stories including Disney Pixar's CARS, The Lion King, The Little Mermaid and Tinker Bell.

Buy tickets and SAVE by entering coupon code "MOM" at ticketmaster.com!
This coupon code allows you to purchase 4 tickets for $44 for Monday – Friday matinee shows or $4 off weekend shows.  Click HERE to download a flyer with dates, showtimes and details.
I really want to take my 3 1/2 year old! Has anyone gone before? ?  Maybe I will surprise her with tickets for Christmas.  Such a fun event!
Congratulations!  The Glory of Christmas ticket winner is…Maree Dee!