This article on the Early Childhood Benefits of Dance is brought to you by Team OC, a Tiny Oranges Sponsor.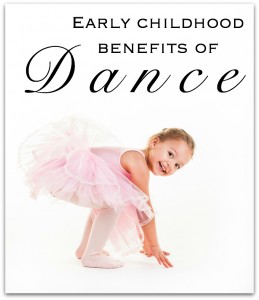 Little girls and dance. It can almost be too cute to handle.
The tights, the tutus, the ballet pink leotards, the little ballet shoes. Heaven.  Admittedly, I might have been known to sign up my little girls for a dance class just to see them in the outfit!!! And the enjoyment and entertainment you get out of watching them in class is priceless.
But cute outfits and mommy entertainment aside, did you know there are many early childhood benefits of dance you might not have even thought of?  Here's how little ones can benefit from the joy of dance.
Early Childhood Benefits of Dance 
Young children primarily learn through physical and sensory experiences.
When children are provided with creative movement that involves the selection of movement choices, they develop knowledge, skill, and understanding.
Dance is a powerful ally for developing many of the attributes of a growing child. Children are naturally active and dance offers an avenue to expand movement possibilities and skills helping mature physically, emotionally, socially, and cognitively.
Dance is an excellent form of exercise for total body fitness. The physical benefits are a greater range of motion, coordination, strength and endurance. This is accomplished through movement patterns that teach coordination and kinesthetic memory.
In addition to the physical benefits, dance enhances a child's psychological health, emotional maturity and cognitive development.
Children of all ages enjoy the opportunity to express their emotions and become aware of themselves and others through creative movement.
Preschool age children will create movement spontaneously when presented with movement ideas. A class setting offers a structured outlet for physical release while gaining awareness and appreciation of oneself and others fostering social encounter, interaction, and cooperation while learning to work within a group dynamic.
Physical activity also promotes school readiness and literacy. To the young child, verbal language and movement are entwined.
The road to literacy involves the translation of movement expression and communication into words. Learning language and learning dance are not separate threads, but are woven together and incorporated into a fabric of communication and understanding leading to a greater development of literacy.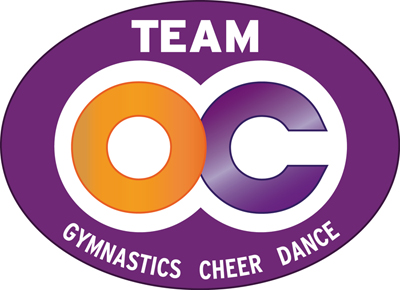 Team OC Dance Program 
Team OC offers a wide array of dance instruction for children ages 2 and older. Preschool age children are introduced to ballet and tap in classes while school age children have an array of dance genre options to choose from including ballet, tap, jazz and hip-hop.
The program implements age appropriate progressive curriculum in a positive learning environment designed to teach dance fundamentals and further enhance the overall development of growing children. Classes offered Monday-Saturday.
"My daughter has been a part of the Team OC dance program since she was 3 years old. Every teacher we've had is amazing and positive every step of the way. 

Now that she is a part of the OCAD Dance Company, we see even more improvement on her technique. Her love of performing in front of crowds is amazing to watch, especially since she is so quiet outside of dance.  

This program not only teaches the kids technique, but also has a very strong focus on the love of dance and performing." ~ Gina, Costa Mesa 
For more information visit www.teamocfun.com or call 714.444.1144.
Article information adapted from the National Dance Education Organization (NDEO)