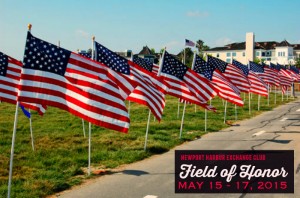 The Newport Harbor Exchange Club Field of Honor 2015 is on display today through Sunday, 5/17 at Castaways Park, located at Dover Drive and 16th Street in Newport Beach.
The event which is put on in conjuction with Armed Forces Day, will feature 1776 U.S. flags in honor of all military men and women.
We take our kids every year to the Field of Honor.
It is so beautiful to walk around the park (overlooking Newport Harbor), surrounded by American flags.  The dedications and photos on the flags will bring tears to your eyes.
Park in the lot in front of Newport Harbor Lutheran Church, 798 Dover Drive, Newport Beach, 92663. You will see the signs from there.
Take your kids and keep this event on your radar every year.  It's always the weekend before Memorial Day. Have a great weekend everyone!
For more information visit www.nhexchange.org.