[Sponsor]
At my age, (ahem) almost 40, we have moved into the stage of milestone celebrations, or those life events you want to commemorate in a big way.
40th birthdays and 10/15 year anniversaries are becoming quite common amongst our circle of friends.
My 40th is coming up this fall, and I figure no time like the present to live it up.
To me, life is to be celebrated and a milestone celebration is the best excuse ever to go big or go home.
If you are intrigued by the idea of going big in the form of a dream vacation to an exotic locale like Fiji, I wanted to share a special Fiji Vacation promo going on through Fiji Vacations until the end end of June (06/30/14). A perfect trip for milestone celebrations!
Fiji Vacations is a boutique travel agency and tour operator located in Costa Mesa. Why would you want to use a travel agency?
I wrote about it here in detail, but in a nutshell there are no fees for their service, just great deals and a staff that is thoroughly familiar with the destination, the resorts, logistics, flights and activities.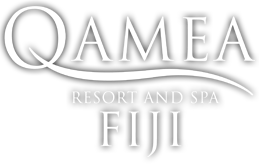 50% Off Fiji Vacation Promo!
One of Fiji Vacations' partner luxury resorts, Qamea Resort and Spa, is offering a 50% off  Fiji vacation special for stays booked now through June 30th, 2014 with travel good through March 2015.
That means if your milestone falls now through next March of 2015, if you book your trip to paradise this month, you will save 50%!
Click here to see the 50% off travel promo through Fiji Vacations to Qamea Resort and Spa.
Qamea Resort and Spa is an intimate boutique property catering to a maximum of 34 ADULTS.
Yes, adults only.
No kids, no cannonballs, no whining for ice cream kind of adults-only. Well, you yourself would be allowed to whine for ice cream, but that would be up to you.
The resort is a 20 minute drive from the Tavenui Airport, followed by an 8 minute private launch crossing, that will take you to a private white sand beach.
Seriously.
The 17 traditional Fijan style thatched-roof burrs and villas are beachfront, air-conditioned, with large covered decks and open-air river rock courtyard showers.
This resort has been named one of the top 10 resort snorkeling reefs in the world. The scuba diving and soft corals are world renowned.
Doesn't it sound like paradise?
Contact Melissa and her staff a FijiVacations.com for a free quote. But hurry, offer ends soon.
If you go, will you pack me in your suitcase? Ask Melissa how much the extra baggage fee I would cost…
Bula!