Ahhhh, summertime! I love summer. Long days, warm nights and sleep-in kind of mornings. And with this glorious season comes an annual Orange County FREE family-favorite event, the OC Parks Summer Concert Series 2015.
OC Parks welcomes back its annual outdoor summer concert series with five free concerts at Mason Regional Park, Mile Square Regional Park, Irvine Regional Park and Craig Regional Park where Southern California artists will be performing live under the summer sky on Thursday evenings now through August 27, 2015.
All of the OC Parks Summer Concerts are part of the KROQ 'N Surf summer series and take place from 6 to 8 p.m.. They offer free admission and free parking and are open to the public of all ages. Friends and families are invited to come out, bring a blanket and a beach chair and enjoy great local live music under the stars at OC Parks this summer season.
OC Parks Summer Concert Series 2015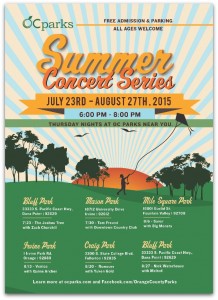 July 30th
Tomorrow night at Mason Regional Park in Irvine there will be a knee-slapping free show with folk artist Tom Freund and the local country sensation Downtown Country Club.
Location: 18712 University Drive, Irvine, CA 92612
Contact: (949) 923-2220, masonpark@ocparks.com
Date: Thursday, July 30
Artist: Tom Freund with Downtown Country Club
August 6th
The following week the series visits Mile Square Regional Park in Fountain Valley with Southern California's own Santana tribute band Savor who will headline Thursday's concert along with 2014 OC Music Awards' Best New Artist nominee, Big Monsta, who will kick off the show.
Location: 16801 Euclid St., Fountain Valley, CA 92708
Contact: (714) 973-6600, milesquare@ocparks.com
Date: Thursday, August 6
Artist: Savor with Big Monsta
August 13th
On August 13th, Irvine Regional Park will  be hosting a free summer concert series performance where and indie rock group Venice will hit the stage with soul singer Quinn Archer.
Location: 1 Irvine Park Road, Orange, CA, 92869
Contact: (714) 973,6835, irvinepark@ocparks.com
Date: Thursday, August 13
Artist: Venice with Quinn Archer
August 20th
The series continues to the rolling hills of Craig Regional Park where audiences will relive the magic of rock & roll with Fleetwood Mac tribute band Rumours and jam out to local favorite Yukon Gold.
Location: 3300 State College Blvd., Fullerton, CA 92835
Contact: (714) 973-3180, craigpark@ocparks.com
Date: Thursday, August 20
Artist: Rumours with Yukon Gold
August 27th
The final concert of the 2015 OC Parks Summer Concert Series returns to Bluff Park at Salt Creek Beach where rhythm and blues sensation Nick Waterhouse will take the stage on August 27 with pop/funk tunes of the band Melted opening the show.
Location: 33333 S. Pacific Coast Hwy., Dana Point, CA 92629
Contact: (949) 923-2280
Date: Thursday, August 27
Artist: Nick Waterhouse with Melted
Here are some photos of the first show on July 23rd at the beautiful Salt Creek Beach park. See you there?! For more information visit  www.facebook.com/OrangeCountyParks