Last month I did a Fancy Nancy party for my oldest daughter's 6th birthday at our house and I am still recovering. So. Much. Work. Therefore, when planning little sister's birthday party a mere 3 weeks after, the only thing I knew I wanted was a party NOT at home!
One of Morgan's favorite places to go in OC is Frogg's Bounce House in Fountain Valley, so I thought it would be the perfect place to celebrate my soon-to-be 3 year old.  If you are looking for a great OC birthday party venue for kids, Frogg's Bounce House was a HOPPIN' good time!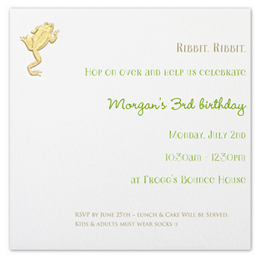 Her party was so easy I almost felt like I was forgetting something.
Frogg's Bounce House parties include:
* Between 2.5 – 3 hours of Open Play (depending on day of the week)
* Use of The Party Pond party room
* Invitations
* A special appearance by special guest, Frogalina
Although their birthday party packages include invitations, I opted to send a Paperless Post one, as I like the ease of tracking the RSVP's as well as the reminders. As luck would have it, Paperless Post had three cute frog themed invites to choose from. I had a lot of fun with the frog theme – cute for boys or girls!
If you have not been to Frogg's before, it is AWESOME!  I take my kids there all of the time.
It is a 9,000 square foot inflatable play zone with a gazillion different bouncers, a special toddler bounce house, kids' playhouses, riding toys, train table, blocks, disco karaoke hut (hilarious to watch the kiddos in this!), couches for moms to kick back and FREE wi-fi.
But what I love most about Frogg's is the place is as CLEAN as a whistle. Many of the moms who hadn't been there before commented to me about the cleanliness factor. At Frogg's Bounce House:
* No one is allowed in with shoes on, socks are required for everyone! Kids + adults!
* They hand sanitize everyone upon entry.
* Hand sanitizers are on all the tables.
* Crocs are provided outside the restrooms in a basket so you can borrow Crocs to use the restroom.
* Bouncers are completely sanitized each morning upon inflation.  I have seen the staff members cleaning them on multiple occasions.
The Party Pond is a huge area in the back of the facility, where you can set up your party.  There was a door conveniently located next to the party area so you can pull your car up right outside and easily load and unload all your items. When I got there, the staff was SO nice and friendly, offering me party bins for our beverages and they did a cute little sign on the white board announcing Morgan's birthday. Because it is so colorful and they always have balloons at the facility, you really do not need to provide one thing decoration-wise.
Although 3 hours of play time would have been included since we had our party on a Monday,  I opted to make the party 2 hours long, which for little kids is the amount of time I find to be just about right.  All I had to do for the party was provide the food, drinks, paper goods and favors. It was a mom's dream!
About an hour into the party, we served lunch. I had pizzas delivered and did an easy fruit salad and a couple Costco salads for the moms. Like I said, it was so easy it was ridiculous. After lunch the kids bounced for awhile longer, then we did cake and "Happy Birthday" followed by Frogalina's appearance about 20 minutes prior to the party end time.
A very special thanks to Melanie from Sensitive Sweets who did that darling dairy-free frog cake for Morgan who is allergic to milk and eggs. We are so lucky there is a bakery in Orange County that specializes in baked goods for people with food allergies!
Upon leaving, we gave out these cute inexpensive favors from the .99¢ Only Store. I put a $1 jump rope in a green cellophane party favor bag and printed a circle sticker on the computer which said "Thanks for jumping with me! xo Morgan" that I stuck on frog die cuts I found at the Dollar Tree.
I can't more highly recommend a party at Frogg's Bounce House. And for the price, I don't even think these days you can do a party at home for much cheaper by the time you get all the decorations and entertainment.
I also like that this venue caters to all ages, so you can also include the little ones as well as older siblings, and everyone will have a fabulous time.
For more information on hosting a party at Frogg's Bounce House, click here for their party information page.  You can also call 714.418.0442 to reserve your special day!
[Disclosure: I was provided the Frogg's party package complimentary in exchange for my time in sharing our experience with you. Love these kinds of win-win situations!]