We have this week off of school for Presidents' Recess, so if any of you are also in the same boat I thought it might be fun to share some fun ideas of things to do with kids in Orange County.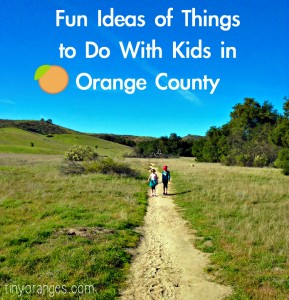 I love being a parent in Orange County because there are truly just so many fun things to do with kids here. Over the past 7 years we have blogged about a lot of fun ideas, so I thought it would be fun to do a summary of some of my favorite posts on this topic. I hope it might inspire some new adventure for your family!
Here are 25 ideas in no particular order:
Fun Things to Do in Orange County with Kids
1. Strike! Go bowling. These are some of our favorite spots:
Bowlmor in Tustin
Lucky Strike
Irvine Lanes
Saddleback Lanes
Tavern + Bowl in Costa Mesa
Tustin Lanes
2. Hike Riley Wilderness Park.  Photo above was from our recent hike there. Looking for something different? Here are top 5 family friendly hikes in OC.
3. Go whale watching. The winter months are an ideal time to go because the whales are making their annual journey from Alaska to Baja by way of our Pacific Coast.
4. Take the kids indoor rock climbing at Funtopia and YOU do it too!
5. Visit the Crystal Cove tide pools.
6. Pack a picnic and eat at Aliso Creek County Beach in Laguna.
7. Visit Strand Vista in Dana Point and take a ride on the Funicular.
8. Rent a surrey and ride around Irvine Regional Park.
9. Bring your kid's bikes, scooters, or roller skates and let them ride around on the huge oceanfront blacktop off 14th Street on the Newport Beach peninsula.There is also a darling, beachfront playground at this location as well.
10.  Go to The Reptile Zoo and meet prehistoric pets in Fountain Valley.
11. Visit the Peter and Mary Muth Interpretive Center – Amazing (FREE) nature center in Newport Back Bay
12. Go ice skating.
13. Visit the historic Kellogg House Museum.
14. Take your kids to Bluebird Park – our favorite park in OC in Laguna Beach
15. Speaking of parks, visit one of my favorite top 5 Orange County parks for kids.
16. Explore SOCO and the OC Mix.
17. Go to the Orange County Great Park and ride up in the big orange balloon!
18. Sign up for a U-Pick tour at Tanaka Farms and pick your own fresh fruits and vegetables.
19. Take the kids to the small, and very manageable Santa Ana Zoo.
20. Visit the new indoor playground, We Play Loud.
21. Do an arts and crafts outing at one of these art locations for kids.
22. Visit one of these Orange County museums for kids.
23. Plan a game of miniature golf.
24. Park on the Newport Beach peninsula and take the Balboa Island ferry boat over to Balboa Island to walk around and have a world famous Balboa ice cream bar.
25. Take the family to the Top of the World in Laguna Beach and relish in what a beautiful part of the country we live in!
Happy exploring!
Did I miss one of your favorite fun things to do with kids in Orange County? Please share below!