"Wine anchors good memories." ~ David Mirassou
Give me a good glass of wine and some good company to share it with and I am one happy mama.  So when a representative from Mirassou Winery invited Susanne and I to attend an exclusive wine tasting event the evening before Bloggy Boot Camp in Las Vegas last weekend the answer was a very enthusiastic YES! This post is all about our experience tasting a selection of various Mirassou wines and my personal favorites.
The event was hosted by David Mirassou himself at the exclusive Foundation Room at the top of Mandalay Bay Resort.
Susanne and I broke out our cocktail attire and as we were enjoying the breathtaking view of the Strip while sipping on a glass of chilled Mirassou Moscato, we thought, "Just our typical Friday night…" Yeah right!
The experience started with a brief story about the history of Mirassou winery as told by David and passed down through the generations. The genesis of Mirassou wines was based on a love story between his great-great-great-great-grandfather who sailed from France with his bride and his prized grape cuttings to start a winery in the sun-drenched hills of California.
As David told the story, I was struck by his love for his family and his enthusiasm for what they have created in the world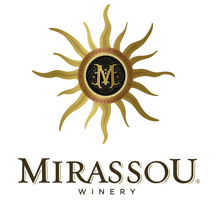 of wine-making over the last 150 years.
Over the course of our evening, we were able to sample a taste of each of six different vintages.
We started off with the Moscato, a little taste of summer in a bottle.  It was sweet and a refreshing mix of peach, tangerine, melon and honeysuckle.  With a lower alcohol content, this is a perfect start to a summer evening of entertaining.
Next we moved on to the Sauvignon Blanc, which was paired delightfully with grilled asparagus.  Crisp, tropical and balanced with hints of grapefruit, melon and pear, if you love a refreshing white wine, but not quite as sweet as the Moscato, this might be the right choice for you.
The Pinot Grigio was reminiscent of the prior, but with toned down acidity making it what some would find to be a more approachable white selection with hints of ripe apple, peach and citrus.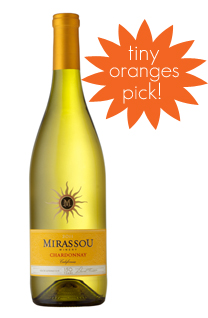 And then we were introduced to the Chardonnay.
I just LOVE a great chardonnay and their vintage, with its kiss of oak green apple and pineapple from Monterey, was the type of wine that immediately makes you want a second glass.
Immediately I proclaimed the Chardonnay to be my favorite (I am a white wine kind of gal when given the choice)  however, that was before I met the Pinot Noir.
I don't drink red wine that often, but one smooth sip of the Pinot Noir, and I might have been swayed to the other side.
With flavors of cherries, strawberries and red currants, the Pinot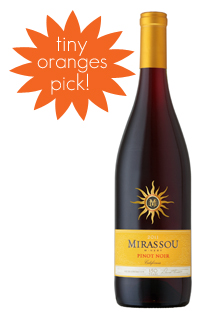 Noir was extremely silky with no bitter lingering taste.
Whereas a good chardonnay is my summer wine, the Mirassou Pinot Noir will be my new fall/winter selection.
Furthermore, if you have to bring a bottle of wine to a party, this is the perfect choice because it is so mild and versatile.
Best part?  I picked up a bottle at my local OC Ralphs this week to serve at dinner with my in-laws and with my club card, the price came to $7.99!
Just goes to show you a quality wine doesn't have to break the bank. Mirassou: I love you.
That is also why the Mirassou Pinot Noir is the #1 best selling Pinot Noir!
Next we were on to the Cabernet Sauvignon, deeper and richer, with hints of vanilla and brown spice.  Even though it was a heavier wine than the Pinot Noir, I still found it to be extremely smooth and tasty.
We then ended with the Merlot, a sweet vintage that has had to work hard to overcome a bad rap given to it by a certain movie years ago. I know you know the one…!
And I adored this full-bodied Merlot ~ the perfect complement to a pot roast or chocolate lava cake.  Yum, can we go to dinner now?!
Wine tasting is a very personal choice, and as David so accurately stated, when it comes to wine, the most important thing is to "Drink what you like!"
I can guaranteed you will find one or more Mirassou selections to fall in love with.
Click here to see where to buy Mirassou wine in Orange County.  Lucky for us, they can be found in most major grocery stores and other beverage stores throughout OC.
A very special thanks to David Mirassou for proving us with an evening that anchored many good memories!
[Disclosure: We attended the dinner and wine tasting complimentary. 100% of these opinions are my honest ones. I would love to hear your favorite Mirassou selections! Weigh in below…] 
Photo credits: Group  photos above compliments of Minnesota Girl in LA. Wine images via Mirassou.