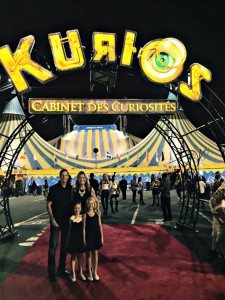 [Complimentary Press Tickets Provided]
Back in the late 90's when I was fresh out of college and working my first full-time big girl job, a trade show took me to the city of  Montreal where a client invited our group to see a Cirque du Soleil performance.  While we were waiting to go in, my boss asked me if I had ever seen a Cirque show before. I hadn't.
His response,
"You will never forget your first Cirque du Soleil."
I haven't.
Simply because nothing on earth quite compares to the magic made on stage at a Cirque du Soleil.  If you have never been before, please, please put it on your list of "must experience" things in this lifetime.
KURIOS – Cabinet of Curiosities
Comes to So Cal 
For my Southern California readers, you can make seeing Cirque du Soleil a reality in the very near future as KURIOS – Cabinet of Curiosities is performing now at a cheerful big top near you. So allow me to get straight to the details so you can plan your date to see it.
For those in the OC, you can see KURIOS at the OC Fair and Event Center now through November 29, 2015  (click here for Costa Mesa ticket info) followed in Los Angeles by Cirque du Soleil's first visit to Dodger Stadium December 10, 2015 through February 7, 2016 (click here for LA ticket info).
My Girls First Cirque

 
On Thursday night my girls got to experience their first Cirque du Soleil performance of KURIOS at the Orange County Fairgrounds and it was pure joy to behold their excitement.
One step into the gates and they were already planning to run away and join the circus Cirque before we even sat down to see the show.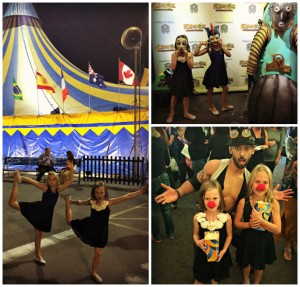 Curious about KURIOS? 
KURIOS is a tale of stopping time and entering a fantasy world where you literally won't believe your eyes.  The athleticism of the performers mixed with the emotion-provoking music and crazy sets make you feel like you in a different world. One of those, "I had the craziest dream last night…." worlds where a huge bronzed hand holds beautiful acrobats doing things like this. What?!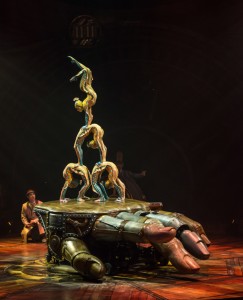 Photo: Martin Girard / shootstudio.ca Costumes: Philippe Guillotel  © 2014 Cirque du Soleil
In short, the show was absolutely stupendous. Phenomenal. Mind-blowing.
I found myself so engaged, so riveted that I had grab my daughter's arm and hold my breath at times to see if the performers were truly going to pull the impossible off. They did.
I have seen a handful of Cirques and this one has, by far, been my favorite. It had me jumping to my feet to give a standing ovation at the very end.
Is KURIOS Kid-Friendly?
Yes! Absolutely yes! My girls are 6 and 9 and loved the show, so much so that they were still talking about it the next day to just about everyone they came in contact with.
if your child is old enough to sit nicely for a long period of time, they will love it.  If I was going to recommend a minimum age, I would probably say 5 or 6, maybe older depending on the kid. Let's just say, old enough to appreciate it.
As a bonus, the OC Fairgrounds venue is fairly small, there really isn't bad seat in the house and your kiddos will be able to see from pretty much anywhere you get seats.
Get your tickets now and plan a "not to be forgotten" family, date night, girls' night out that will be unlike any other!
For more information visit: www.cirquedusoleil.com/kurios