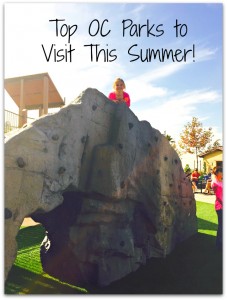 Summer is in full swing and for those of us with little ones, that means a lot of OC park time!  I've complied a list of Tiny Orange's best park "picks" through the years, as well as some of my new favorite hangouts.  Here are my top OC parks to visit this summer.  Happy playing!
Tiny Oranges' Recs
– We are huge fans of Michele's NaturePlayTrips.com FREE Family Guidebooks Club which now includes a FREE Crystal Cove Guidebook plus a free weekly play trips email. Once you're a member you'll get future guidebooks for free like the Parks in Orange County with Restrooms Guide AND a Beginner Guide to Family Camping. Since 2008, Michele has personally scouted pretty much every park and outdoor play space for families in OC, and has shared the inside scoop on her blog FunOrangeCountyParks.com. To this we say, thank you Michele!
 – You can read all about Jen's favorite parks in Our Top 5 Orange County Parks.
– Here's a great Tiny Oranges' write-up on TeWinkle and Angels Playground and Park (Costa Mesa).
– Check out the adorable Citrus Ranch Park (Tustin) in this blog.
– Coastal Peak Park (Newport Coast) looks so beautiful, and you can read about the playground details in this blog.
– Another gorgeous park is found at Lido Island Playground (Lido Island, close to Newport) – this one makes me extra happy and extra appreciative to live in beautiful Orange County!
– Settlers Park (Irvine) is a really great park and playground, and Tiny Oranges reviews it in this blog.  Check it out!
My New (and Old) Favorites
Baker Ranch (Lake Forest) – This is a super fun park that just opened last year.  It has large rock areas to climb for big kids (pictured above), a huge tunnel slide, a "big" kid playground, a "little" kid playground, grassy areas, picnic areas, and a nice park bathroom.  My kids love this one!
Crown Valley Park (Laguna Niguel) – This newly renovated (and I mean, newly renovated!) park just re-opened this month…and it is fabulous! A super cool, super entertaining splash pad that kept my kids giggling and busy (bonus – two life guards on duty!), a playground for littles, a playground for bigs, and a family-friendly hiking trail.  This very pregnant mama wan't up for a hike while we were there, but it's nice to know it's available. Just be prepared for crowds – because it is so new, everyone seems to be checking out this new little gem.
Florence Joyner Olympiad Park (Mission Viejo) – This is a park my family has enjoyed for years…and we actually had my daughter's 1st birthday party here (many moons ago)!  It's an awesome, interactive park designed to keep both littles and bigs busy and happy. Slides (my kids LOVE the tall, bendy slide!), swings, sand areas, a "pirate ship," lots of room to run and play, equipment for all ages, grassy areas, and bathrooms.
Lake Forest Sports Park and Recreation Center (Lake Forest) – I recently discovered this (almost brand new!) park and it is amazing! This is huge, clean, community property opened last year, and has two amazing parks that are separated – one designed for the littles and one designed for the bigs – and both areas are BIG. With LOTS to do.  It boasts every type of playground equipment you'd ever want (and it's mostly shaded!), plus expansive grassy areas, picnic areas, immaculately kept sports fields, and a beautiful community center (with super clean bathrooms!).
Heritage Park (Irvine) – I've only been here once, but I can't wait to take my kids again this summer. Not only does this park offer a fabulous playground, but it also features a water play area and splash pad!  Tons of great playground equipment and a beautiful area.  Just make sure to bring a towel and/or a change of kid clothes with you!
Pavion Park (Mission Viejo) – Okay, I can't wait to check this one out.  My mama friends say this park rocks!  It's also pretty new (as of Dec. 2014), and looks like it will be a kid crowd pleaser – and it's universally accessible!  Tons of different "spinners," a new type of "zip line," slides, tons of places to climb, spacious "sitting" areas for adults and/or kids to socialize, a ground maze, lots of space to run and play…I think the only special thing to note is that there is not a bathroom on site (so plan ahead, if you can!).
What are some of your favorite parks, moms? Please share below, and let's add to this list!