This post is sponsored by CosmetiCare to spread the word about their free BeautyLand event on May 7th.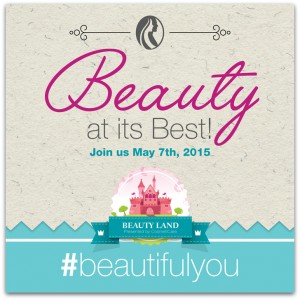 As a blogger, when I get approached about sponsored campaigns and whether I want to take it on and write about it, I ask myself, "Does this interest me? Would it interest or be of value to my readers?"
If I say "yes" to those two questions, it is a good fit.
Recently I was contacted about a campaign to spread the word about an event called BeautyLand hosted by one of Orange County's leading medspas, CosmetiCare, and when reading about some of the services they offer and how two in particular have always interested me, I wanted to share this event with you.
For years I have wanted to learn more about laser hair removal but have never gotten around to investigating options. I have also been interested in IPL treatments because, thanks to 40 years in the sun, I have quite a bit of brown spots and discoloration and would love to even out my skin tone.
Both services are offered at CosmetiCare and the BeautyLand event will allow me to see the treatment rooms and get more information.
BeautyLand at CosmetiCare 
Love what you see when you look in the mirror.
BeautyLand is an Open House event where you can visit the medspa and tour the seven signature rooms to learn more about services for serious skincare results (while sipping on complimentary bubbly and nibbling on delectable hors d'oeuvres).
Through onsite demonstrations of non-invasive beauty treatments and techniques you can see how these treatments are used to correct wrinkles, loose and sagging skin, uneven skin tone and pigmentation, rosacea and more.
Here is just a sample of their different treatment rooms you can visit at BeautyLand.
Skin Care and Glow Room 
Discover aesthetic technology with instant results and zero downtime.
Fat Melting Room
TruSculpt is a 100% non-invasive body contouring option, again with no downtime.
Laser Room 
This is the place where they say painless laser hair removal takes place. I am intrigued by the painless claim, and would like to learn more. Especially before bikini season.
Freeze & Fill and more
Lots of options on how to fight wrinkles and signs of aging these days.
Care Credit Room
If you are curious about cost you can request no-interest financing in the Care Credit room and learn different payment options.
BeautyLand Event Info 
Thursday, May 7th, 2015
1101 Bayside Drive, Suite 100
Corona Del Mar, CA 92625
Tours take place at 2:00pm, 3:00pm and 4:00pm.
RSVP is required as space is limited and this is an adult-only event.
To sign up for a free tour, email inquiry@cosmeticare.com with your preferred tour time or call 949.273.2663.
Attendees will receive opportunity drawing tickets to win baskets overflowing with skin-care products and services valued up to $600 with each stop during the BeautyLand event culminating with a $2000 grand prize! I am taking the 4:00pm tour, hope to see some of my readers there!
$500 Giveaway!
Enter to win $500 worth of Spa Services for you at CostmetiCare medspa!